Have you ever dreamed of walking on an untouched, sandy beach alongside a giant Galapagos Tortoise, climbing the slopes of a volcano, zip-lining over a rainforest canopy, or standing with your feet on the Equator? Earlier this year, a small group of students and faculty did all of this and more when they traveled to explore the culture and untouched natural beauty of Ecuador and the Galapagos Islands. 
The intrepid Storm King travelers began their journey at 9,350 feet above sea level when the group stepped off the plane in Quito, the capital city of Ecuador in early March. During their nine-day adventure, they had the chance to hike and zip-line through the lush cloud forests of Mindo to the sound of tanagers and toucans and learned about the threats of deforestation in one of the world's biodiversity hotspots. According to Director of Service Learning Ben Harnick who accompanied the students, making their way through the jungle was "an amazing experience that everyone enjoyed. Even senior Dorothy M., who expressed some trepidation about the activity, went along with encouragement from her peers and had a blast."
While in the rainforest, the group also paid a visit to a chocolate plantation that produces some of the finest Ecuadorian cacao and spoke with local farmers about their efforts to keep their business sustainable and their carbon footprint small. "We explored every aspect of the supply chain from bean to bar, and sampled some of the world's best chocolate along the way. This was amazing," continued Mr. Harnick. "We learned so much about cacao and how this small artisanal outfit makes all their chocolate by hand. They also make a number of other cacao-related products like tea from the husks, lip balm from the cacao butter, and sauces/marinades from the white, slimy part of the plant (which we were challenged to try. It was surprisingly good!)."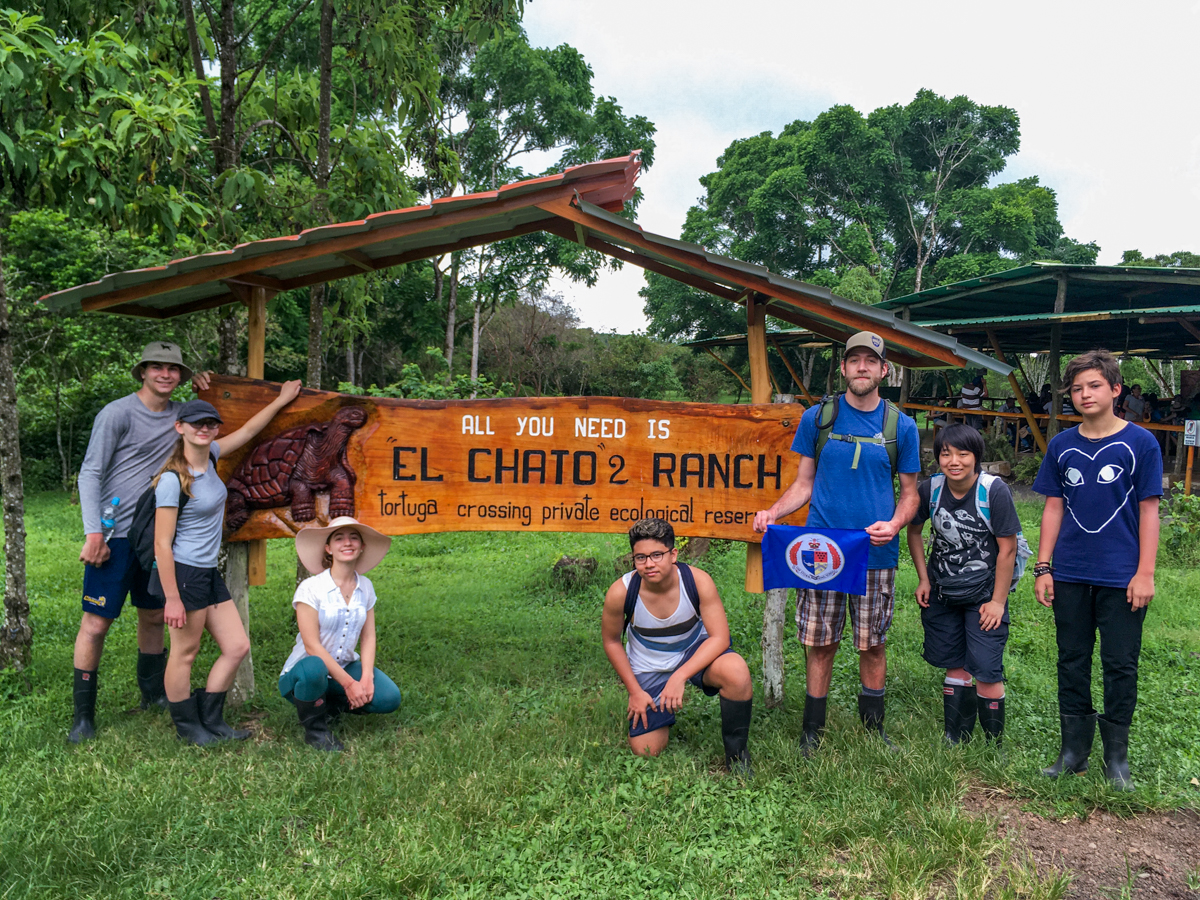 "That same day, we traveled to zero degrees latitude on our visit to the Museo de Sitio Intiñan where we all got to stand with one foot in each hemisphere and test out the effect of gravity on the equator through a series of interactive experiments," continued Mr. Harnick.
After the group departed from Quito, they headed for the Galapagos Islands of San Cristobal, Santa Cruz, and Isabel via speedboat where they spent the next six days learning about the challenge of sustainability in this protected landscape. Their first stop was San Cristobal where Charles Darwin first went ashore in 1835. "Suddenly we were transported from a world of bustling streets and towering mountains to an arid archipelago full of natural beauty and otherworldly landscapes. In between island-hopping we enjoyed snorkeling with sea lions at the Galapagos Marine Reserve and relaxing moments on the islands' beautiful beaches. The sea lions were a few feet away from us and very playful! They swam right alongside us on the coast," continued Mr. Harnick. "We also went sea kayaking which was another student favorite. Once again, Dorothy went along despite her doubts. We all had a good laugh when eighth-grader Santi V. and sophomore Adit M. tipped their kayaks multiple times."
On the island of Santa Cruz, the students learned about the creation of the islands as they explored underground lava tunnels. They also got to meet the islands' most famous reptile: the giant Galapagos Tortoise. These tortoises can weigh up to 500 pounds and are scattered throughout the islands' highlands. "Seeing the tortoises in their natural habitat was amazing," continued Mr. Harnick. "Then it started to rain which brought out many of the tortoises for an afternoon bath! We also visited a tortoise research facility on Isabel Island where we saw tiny baby tortoises no bigger than our palms and fully grown adults weighing hundreds of pounds!"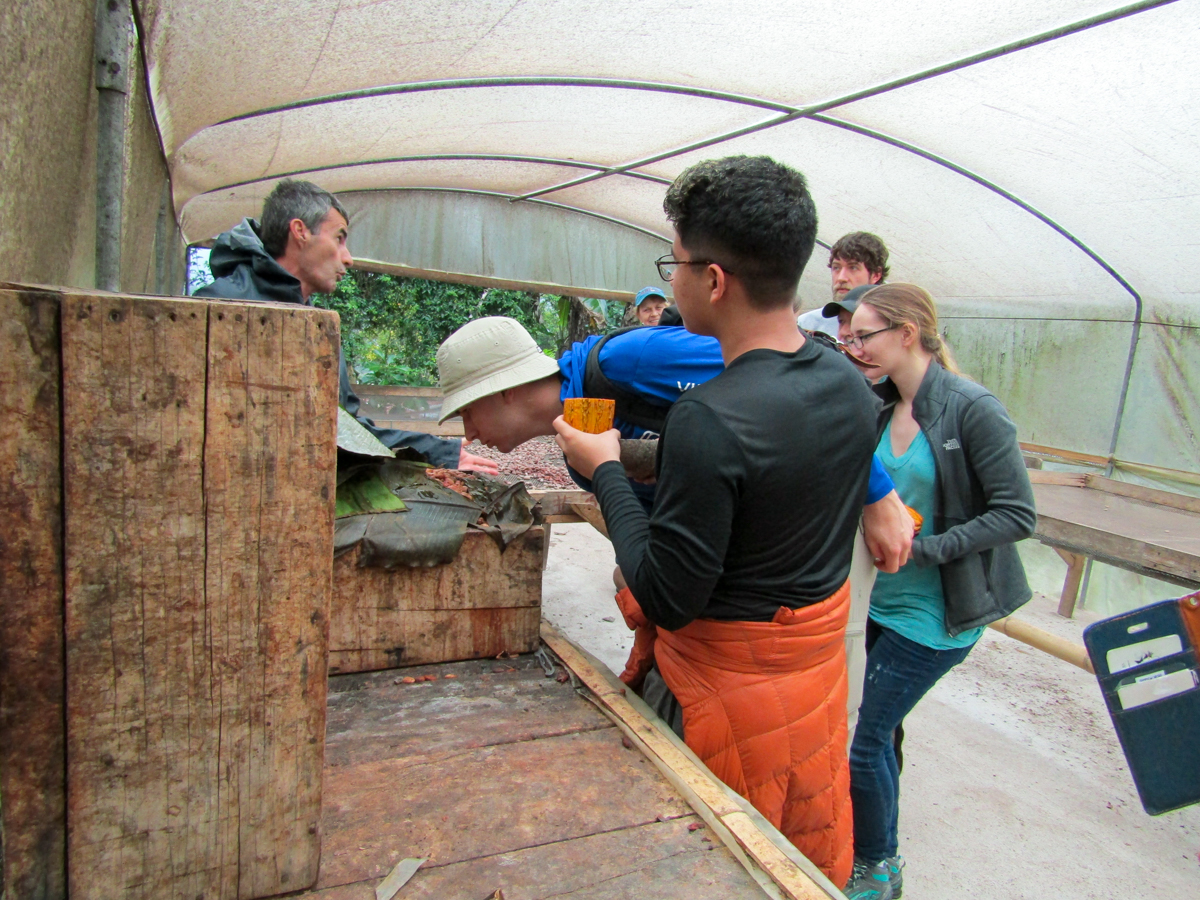 Another highlight of Isabel Island included a walk around the rim of Sierra Negra, one of the largest volcanic craters in the world, measuring six miles in diameter and 1,000 feet deep, snorkeling at Concha de la Perla, and the sighting of a real Galapagos penguin.
"As a group, we saw and learned so much and had so many great experiences and memorable moments, it's difficult to cover them all," continued Mr. Harnick. "I was really impressed with the way our small, very diverse, group of students interacted with one another. I think our first group experience, zip-lining, helped to establish a bond within the group that carried through the entire trip.
The trip was a great example of experiential education as we learned so much about history, culture, ecology, biology, etc. through a series of amazing adventures. I think all involved also learned a lot about each other and themselves. Travel is a fantastic catalyst for young people to gain insight and achieve growth. Our adventure was a rewarding and enriching experience for all involved." 
On ideas for next year's international trips, Mr. Harnick looked to his students for inspiration. "Toward the end of the week, we began to dream of where to go next year. Peru and Machu Picchu? Perhaps something more personal like Mason's ancestral Uruguay? Or a different direction such as Iceland to see the aurora borealis? At the end of such a wonderful travel experience, the students were thirsting for even more adventure. The possibilities of where to go next became endless. From that moment, SKS' motto of "How big can you dream?" became the spirit within all of us."