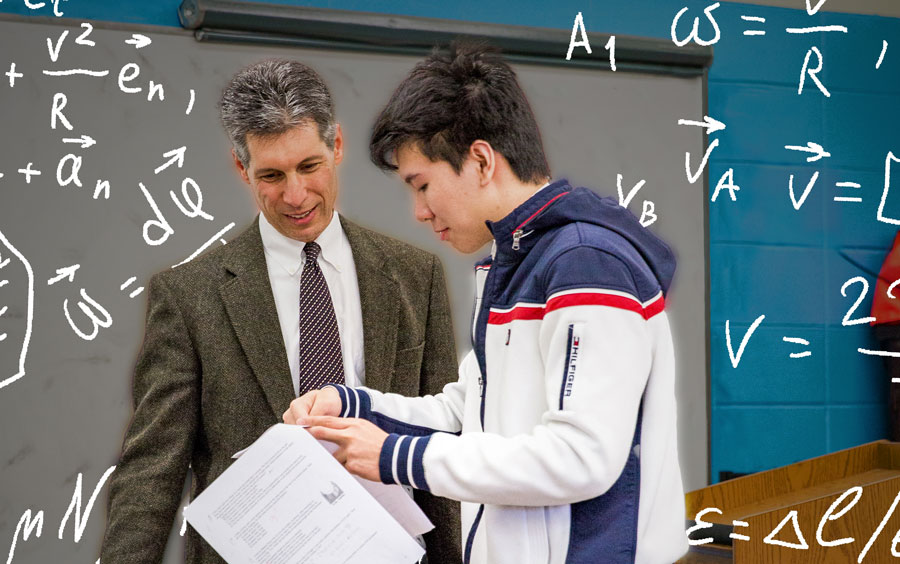 Science at The Storm King School follows a physics-chemistry-biology sequence where students are not simply gaining knowledge but learning the processes of exploration, inquiry, and problem-solving. From there, Advanced Placement courses are offered in the core disciplines as well as Computer Science. Juniors and seniors have flexibility in their course choices to pursue their own interests in the study of science.
The curriculum for the 8th-grade science class draws from the collection of fields traditionally known as "Earth Science." The topics range from geology, meteorology, and oceanography to astronomy. In this class, students explore the complexity of Earth's structure and how its properties work together to sustain life.
(typically taken during sophomore year)
Chemistry is the study of matter, energy, and their interactions. This course covers chemistry's basic principles, including atomic theory, the periodic table, chemical reactions, chemical quantities, chemical names with formulas, stoichiometry, and ionic/covalent bonding. This course is structured to develop critical thinking as well as independent and group problem-solving skills. Laboratory safety and techniques are emphasized in all experimental activities.
(sophomore elective)
Honors Chemistry covers the same material as regular Chemistry but with the expectation that the student completes lab activities and homework assignments with a higher level of sophistication and comprehension.
(a junior or senior elective that requires prior successful completion of general chemistry)
Advanced Chemistry is a rigorous college preparatory course designed to prepare students who wish to take the AP Exam at the end of the year. Student's taking this course will advance their understanding of the general chemistry course typically taken during sophomore year. This course emphasizes atomic theory, the periodic table, bonding, molecular structure, gas laws, kinetic molecular theory, stoichiometry, electrochemistry, properties of solutions, acids and bases, equilibrium, reaction rates, thermodynamics, and nuclear and organic chemistry. Students should expect a highly demanding schedule of homework assignments, and those choosing to take the AP Exam are advised that they will need to set aside time for independent review.
(junior or senior elective)
This course seeks to investigate the science behind the significant environmental issues of today. Students develop a comprehensive overview of Earth's various independent systems and how they interact with each other. Using an "Earth systems" approach, students begin to recognize society and the environment as an interrelated system. They investigate current issues, explore realistic solutions, and ultimately gain a greater understanding of the environmental factors that affect our world.
(junior or senior elective)
Biology is the study of life itself. It has become the preeminent science of the 21st century. Advances in genetics and biotechnology have begun to allow humans to manipulate life to suit our needs. In this course, students explore the characteristics that all life has in common; how life is passed down from generation to generation; how species change over time; and how life interacts with the environment. Learning about life on Earth, past, and present, students begin to imagine how we can shape its destiny.
(junior or senior elective)
AP Biology prepares students to carry out scientific investigations and develop advanced inquiry and reasoning skills. The course covers the "big ideas" of evolution, energy, information, and interaction within the living world. Students explore experimental design and data collection and analysis while conducting laboratory exercises throughout the semester. AP Biology is equivalent to a two-semester college introductory biology course. The pacing will be faster and less flexible than regular courses in order to cover all the required content. Students should expect a highly demanding schedule of homework assignments.
(junior or senior elective)
The scientific field of physics has been central in the development of modern civilization, from everyday conveniences to advanced technologies to our understanding of our place in the Universe, and it will continue to lead us to discoveries yet to be imagined. This physics course follows a modeling approach in which the students actively participate in the process of scientific inquiry. Major concepts are introduced with paradigm labs in which students measure observable quantities, extract key relationships between the variables, and develop models to understand the observed phenomena. Multiple representations—schematic, graphical, and mathematical—are developed, which together define the models. Students regularly work in teams, and both present and defend their work amongst each other. The curriculum includes kinematics, dynamics, energy, and other topics as time permits.
(junior or senior elective that requires prior successful completion of AP Calculus)
The science of physics and astronomy has played a profound role in human civilization from the ancient Greeks to modern times. Physics is at the heart of virtually all modern technology and provides the foundation for our understanding of the world. The goals of this course are (1) to develop an in-depth understanding of the principles and mathematics of classical physics mechanics in preparation for the AP Physics C exam and (2) to practice experimental data acquisition, analysis, and reporting using digital sensors and computer-based analysis tools. Calculus will be used throughout the course to understand concepts and prepare students for college-level work in physics and engineering. Students should expect a highly demanding schedule of homework assignments.
(sophomore, junior, or senior elective)
AP Computer Science Principles introduces students to the central ideas of computer science, instilling the ideas and practices of computational thinking and inviting students to understand how computing changes the world. The curriculum is structured around several major components: (1) digital information, (2) the Internet, (3) app design and programming, (3) data, and (4) cybersecurity and global impacts. In addition to the AP exam at the end of the year, students must submit an original computer application designed and coded by the student. AP Computer Science Principles is complementary to AP Computer Science A (CSA); students may elect to take both courses in either order, although CSA is more technically challenging and is recommended only for students with prior programming experience and strong math skills. Students must have access to a laptop computer (Windows or Mac) for classwork and homework assignments for both courses.
(junior or senior elective)
AP Computer Science A is a college-prep course for potential computer science majors and a foundation course for students planning to study other technical fields such as engineering, physics, chemistry, and many other fields that may require an awareness of programming