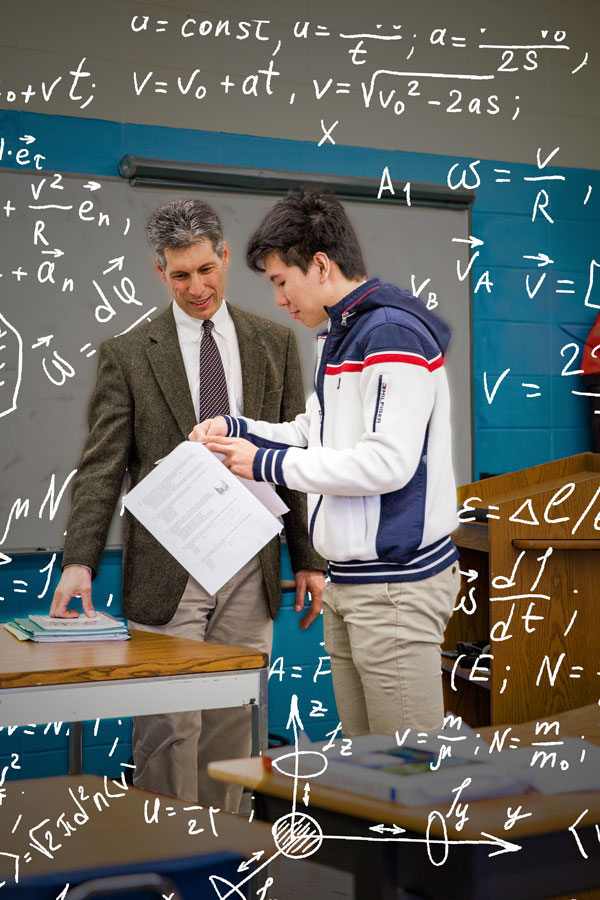 Science at The Storm King School follows a physics-chemistry-biology sequence where students are not simply gaining knowledge but learning the processes of exploration, inquiry, and problem-solving. From there, Advanced Placement courses are offered in the core disciplines as well as Computer Science. Juniors and seniors have flexibility in their course choices to pursue their own interests in the study of science.
(typically taken eighth graders)
The curriculum for the 8th grade science focuses on three themes: Knowing the Self, Investigating the Past, and Understanding the Community. It uses the our location in the Hudson Valley as a learning laboratory to explore these ideas.
Freshman physics follows a modeling approach in which the students actively participate in the process of scientific inquiry. Major concepts are introduced with paradigm labs where students measure observable quantities, extract key relationships between the variables, and develop models to understand the observed phenomena. Multiple representations – schematic, graphical, and mathematical — are developed, which together define the models. Students regularly work in teams and both present and defend their work amongst each other. The curriculum includes kinematics, dynamics, energy, gravitation, wave phenomena, and simple electrical circuits, in addition to other topics, as time permits.
(typically taken sophomore year)
Chemistry is the study of matter, energy and the interactions between them. This course covers the basic principles of chemistry including atomic theory, the periodic table, chemical reactions, chemical quantities, chemical names with formulas, stoichiometry, and ionic/covalent bonding.  Laboratory safety and techniques are emphasized in all experimental activities. This course is structured to develop critical thinking as well as independent and group problem solving skills. A student-centered instructional design is utilized that guides students to develop scientific models that describe their experimental observations.
This course provides academic support for students enrolled in the ASP program.
Honors Chemistry covers the same material as regular Chemistry but at a faster pace, allowing time for more advanced topics and extended laboratory work.
This course is offered with academic support for students enrolled in the ASP program.
(typically taken junior or senior year)
Biology is the study of life itself. It has become the preeminent science of the 21st century. Advances in genetics and biotechnology have begun to allow humans to manipulate life to suit our needs. In this course we will study the things all life has in common, how life is passed down from generation to generation, how species change over time, and how life interacts with the environment. We are learning more than ever about life on Earth, including how we can shape its destiny.
(senior elective)
This course seeks to investigate the science behind the major environmental issues of today. Students evaluate and discuss environmental resources from the Storm King School and the Black Rock Forest research facility to understand the issues, problems and possible solutions motivating current trends in environmental science.
Videos from the Classroom