ACADEMIC PHILOSOPHY
Our program rests on the belief that each student is unique. At Storm King, students have many opportunities to shape their academic journeys. Whether each emerges as a young entrepreneur, promising debater, actor, scientist, or literary scholar, the experience is theirs to create. We encourage students to let their passions and dreams be their guide. 
YOUR PATH TO SUCCESS
Our world is changing at a rapid pace and today's students must prepare for jobs that do not yet exist, in fields that have not yet been imagined. To ensure that Storm King students graduate with a competitive edge, ready and eager to thrive in the 21st-century economy, we help them become thinkers, doers, problem solvers, and adapters. We emphasize creativity, collaboration, critical thinking, and communication throughout our curriculum. With approximately 100 courses, including AP and Honors level subjects, Storm King students have the opportunity to design a schedule that allows them to explore their particular interests and passions.
Our academic program follows a university-style curriculum. The same four periods meet every day, and students take three to four courses in a given semester. With eight periods offered over the course of an academic year, students engage in more classes than they would at most other prep schools. By refocusing education on the principal of teacher-student interaction, the SKS Model reinforces our commitment to offering an experience that is specifically tailored to each student.
MEET SOME OF OUR DREAMERS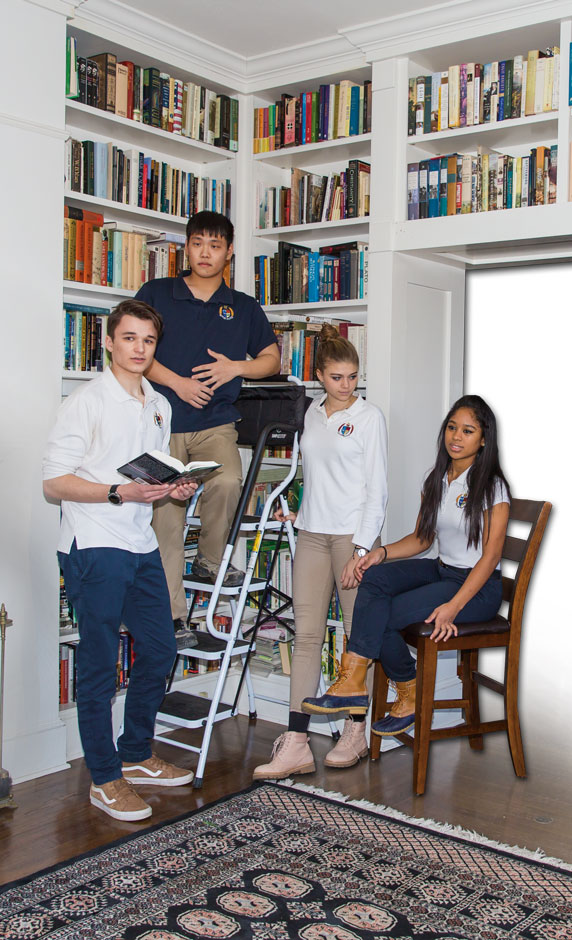 Home: Cornwall-on-Hudson, NY
Interests: Government, languages, guitar, and saxophone
Dreams: To work in global politics and to see the world
My Schedule: AP Spanish, AP Biology, Calculus, Honors British Literature, Chinese 3, International Relations, Music, Model UN Club, Bowling, and Baseball
International Relations: "During my first year as an 8th grader at SKS, I took 3 different foreign language classes and met students from all over the world. This inspired my love for different cultures and fueled my passion for global politics."
Home: Seoul, South Korea
Interests: Computer Programming 
Dreams: Start my own IT company in Silicon Valley
My Schedule: AP Statistics, AP Computer Science, US History, AP Calculus, US Literature, Computer Programming Club, Robotics Club, Soccer, and Lacrosse 
AP Computer Science: "At SKS, I am able to take AP Computer Programming as a sophomore."
Home: Alicante, Spain
Interests: Business and Tennis
Dreams: To play NCAA D1 Tennis
My Schedule: Physics, Precalculus, Dance, Economics, World Literature, AP Psychology, Digital Photography, Tennis, Soccer, and Basketball
Varsity Girls Tennis: "I've been playing tennis ever since I could walk. Here at SKS, I play year-round, and that will help me achieve my goal of playing NCAA tennis."
Home: New York, NY
Interests: Acting and Dance
Dreams: To pursue acting in Hollywood
My Schedule: Honors Precalculus, Advanced Dance, Spanish 5, Environmental Science, Economics, Video Production, Performing Arts, Soccer, and Lacrosse
Performing Arts: "I love to perform. I dance and act as much as I can. I would love to pursue theater in college in New York City or head to California."