History & Social Sciences
T
he History and Social Sciences curriculum at The Storm King School prepares students to be informed, perceptive, and engaged citizens of their communities and the world. In all courses, students increase their knowledge about the many peoples, cultures, and events that have shaped human history.
Students are exposed to the moral and ethical issues that have faced other people in other times, in studying the struggles and triumphs that have marked human history, and in understanding the purposes that have divided people as well as those that have united them.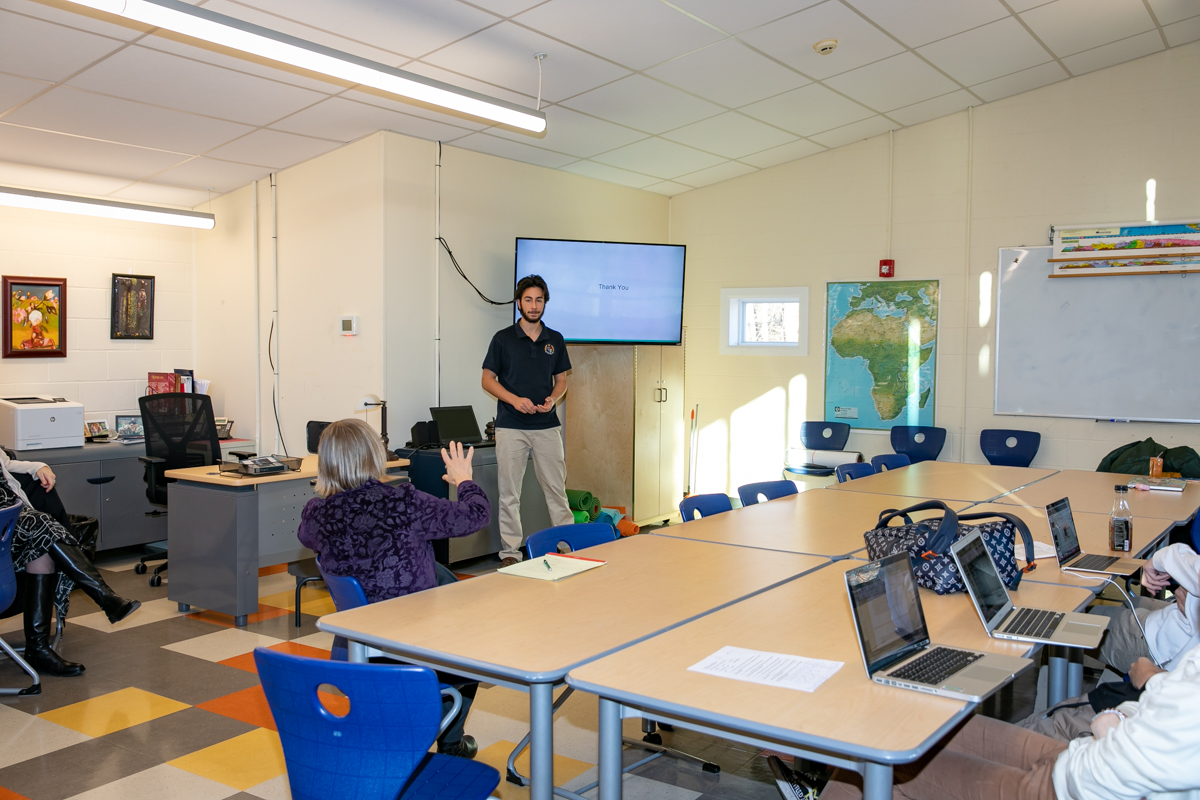 The curriculum for eighth grade history focuses on three themes: 1) Knowing the Self, 2) Investigating the Past, and 3) Understanding the Community. The Hudson Valley is used as a learning laboratory (Place-based Learning) to explore these ideas. In general, eighth grade history covers the main topics of human and physical geography, and builds a strong foundation for the study of contemporary issues by placing modern events in context. Students will see important connections between events and historical periods, and understand geography's role in our nation's history. A primary goal in this course is to expand history from something students simply read about to something they experience.
This course provides academic support to students enrolled in the ASP program.
In this ninth grade course, students explore the cultures and history of people across the globe, from the beginning of human development to the rise of the modern state. By understanding the common struggles and achievements of past people, students better understand the shortcomings and successes of our current age. Along with studying history chronologically, students focus on several themes that have impacted the course of human culture and civilization, including colonization and empire-building, different political systems, and technology. Students also look at many of the more day-to-day aspects of life such as family, religion, and food that have changed over time.
Offered to sophomores, this course will review the important events and key issues related to U.S. history. Topics covered include the birth of the new nation, the Civil War, diversity and equality, government, and foreign policy. The Storm King School takes advantage of its historical location along the iconic Hudson River to further the students' exploration of history with resources such as the Black Rock Forest Preserve, West Point, the FDR museum, Washington's Headquarters, and Fort Montgomery, and many others.
This course supplies academic support to students enrolled in the ASP program.
Honors United States history is a thematic examination of the important events in United States History for sophomores. Students explore essential questions in depth such as "What is the role of government?" "How does a country become a great power?" and "How can equal rights be guaranteed for all?" Through their studies, students connect key terms and deepen their understanding of history. The area of content serves as an avenue to improve in important skill areas. Students assess their strengths and weaknesses and work to improve in reading comprehension, critical thinking, and analysis, writing, individual and group work, all in preparation for the rigors of college work in the social sciences.
This course examines American as well as other government systems and ideas of government and justice systems around the world, not only from a traditional teaching perspective, but also from the knowledge of students who come from other countries explaining their cultures. The class spends quite a bit of time on different constitutions, but pays particular attention to the American Constitution. Students are eager to act as members of the "Supreme Court," assessing whether or not they come to the same decisions and why.
This course provides extra academic support to those enrolled in the ASP program.
Psychology is a field of study with a wide range of applications. This course is designed to introduce students to the core principles of the discipline. It will provide a framework for the exploration of a variety of topics including but not limited to social influences on human behavior, the causes and treatments of various mental illnesses, personality traits and their roots in our development, and the long term impact of prolonged stress. Students will have the opportunity to engage in cooperative projects wherein they will design and conduct their own psychological experiments using techniques they learn in class. By the end of the semester, students who take this course will be able to create detailed diagrams of the brain, recognize the stages of general adaptation syndrome in their own stress response, apply attribution theory in their daily lives, and much more.
Advanced Psychology uses the David Myers AP textbook. The pace, number of topics, quantity of reading, and writing will be at a significantly higher level in the Advanced Psychology class. Students have the option of taking the AP exam.
Requires recommendation from the previous year's history teacher.
AP Art History is offered every other year unless there is significant interest. This course is a seminar art history course. It is taught following the AP art guidelines, and in preparation for the AP art exam in May. The course meets both a history requirement and an art requirement.