George Leighton Tholken, Jr. '57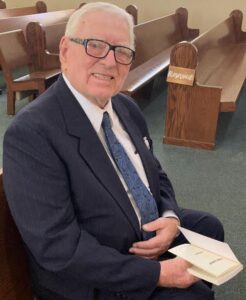 George Leighton Tholken, Jr. 17 July 1939 - 5 July 2021 Sarasota, FL George L Tholken, Jr. passed peacefully from this life on earth to his eternal home in heaven on July 5, 2021 in Dunlap, TN at the home of his son, Gregory.
George was born in Cornwall-on Hudson, NY on July 17, 1939 to George L. Tholken, Sr. and Sarah "Sally" Elizabeth Lamont Tholken. He grew up in Cornwall-on-Hudson, NY where he was a day student at The Storm King School, class of 1957, and played soccer, hockey and baseball.
Following graduation, George received his bachelor's degree from SUNY Oswego where he met the love of his life, Martha Sue Letts. George enlisted in the United States Coast Guard in 1963, and went on to complete Officer Candidate School (OCS). George received the National Defense Service Medal, and was honorably discharged as a Lieutenant Commander in 1967. He married M. Sue Letts on December 28, 1963, and they were married for 56 years. He owned Hillside Service Center in Danbury, CT for fifteen years. They moved to Sarasota, Florida where he worked as an Air Conditioner technician for 20 years before his retirement in 2002.  George and Sue traveled the country, visiting National Parks and other points of interest along the way, with their grandchildren during the summer months for about 20 years following their retirement.
Survivors include his son, Gregory (Rebecca) Tholken of Dunlap, TN; and daughter, Pamela Tholken of Sarasota, FL; his four grandchildren: William (Meghan) Tholken, Noelle (Brett) Steele, Garrett (Savana) Tholken, and Jenifer Tholken; his four great-grandchildren: Jaylin and Eli Steele; Edward and Ellery Tholken. George was predeceased by his parents, and his wife Martha Sue Letts Tholken. A memorial service will be held at a later date. Arrangements were made by Chattanooga Funeral Home, Crematory and Florist in Chattanooga, TN. In lieu of flowers, donations can be made to the church they dearly loved, First Congregational church of Otis, 46 N. Main Road, P.O. Box 392, Otis, MA 01253; or the Gideon's International, Sequatchie Valley Camp, P.O. Box 1405, Dunlap, TN 37327-1405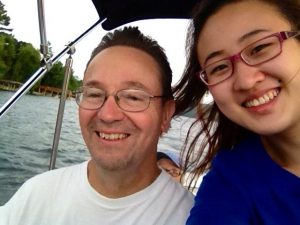 SCOTT E. HUNT
January 30, 1946 – May 27, 2021
Cornwall-On-Hudson, NY
Scott Hunt taught at SKS from 2014 until 2021, serving as Chairman of the Math Department.
Born in Susanville, California in 1946, Scott Edwin Hunt was the younger of two children of Roy and Myra Hunt; sister Claudia. Scott spent his childhood in the Sierra Nevada mountains near his grandparents' cattle ranch. Surrounded by majestic mountains and panoramic vistas, Scott fell in love with Mother Nature and all of her grandeur. His years on the ranch would be forever ingrained in his soul and he would often tell ranch tales and speak of its beauty.
Scott's parents instilled in him a strong work ethic for academics, work, and sports.
He inherited his father's love of baseball, which he played throughout college, and his mother's love of family, which instilled in him the credo that he passed on throughout his days: "love of family is the essence of life."
Scott's family ended up in Arcata, California, where he would spend his teenage years and graduate from Arcata High School. He spent a year at the South Dakota School of Mines, transferred to Humboldt State, and the following year enrolled in the University of California Davis where he enlisted in ROTC and continued to play baseball. After graduating with a degree in Mechanical Engineering, Scott reported to Fort Lewis ready to serve his country, only to be honorably discharged due to an injury.
Fresh out of college, Scott was hired by General Electric as an Application Engineer. The company eventually sent him from Long Beach, California, to Phoenix, Arizona, to Schenectady, New York; the latter of which led him on an epic cross-country road trip that culminated in a Northeast blizzard.
Scott joined a rugby team once he settled in New York. It was at a rugby party in 1970 where he spotted Carole Clark from across the room. Scott and Carole began dating and, due to Scott's love of history, their first date was at Saratoga Battlefield. They married on August 18th, 1973 in Lake George, New York, amid the natural beauty of the Adirondacks.
In 1978, Scott and Carole moved their family to Cornwall-on-Hudson where they would spend the next 43 years. Four children soon followed. Scott was the ultimate provider and family man. He was a beloved coach of youth teams that he coached for 20 years, becoming an inspirational mentor among the youth in his community.
Scott received his Master's Degree in Electrical Engineering from Stevens Institute of Technology and continued his career in engineering for 30 years. From St. Regis Paper Company to Champion International, Scott held several engineering management positions in the Process Control Department. He was later promoted to Director of Manufacturing Control Systems at the corporate headquarters in Stamford, CT where he helped develop major process control projects and often traveled to industry-wide conferences presenting his findings.
After retirement, Scott was inspired to teach AP level math classes at Storm King School. He continued his love of sports there by coaching both the boys and girls soccer teams. Scott loved teaching and coaching so much, he remained there for 12 years.
As Scott's children grew older, he enjoyed traveling around the country to visit them in Colorado, California, Massachusetts, Hawaii, Alaska, and Washington State. Five grandchildren arrived within three years' time and Scott reveled in their playfulness. Many of Scott's passions were often surrounded by nature and sport. He loved fly-fishing, hiking, being out in his rowing shell on Lake George, and attending professional baseball and hockey games with his kids.
Nothing was dearer to Scott than his family. He is survived by his wife Carole of almost 48 years and their children Kevin (wife Ann), Lanie (husband Russ), Kyle (wife Ashley), Darren, and five grandchildren: Tessa, Braydon, Molly, Hudson, and Caleb. As the patriarch, he enjoyed family gatherings and especially sharing laughs. His family will miss him dearly and will cherish his legacy always.
Visitation Hours will be held on Friday, June 4th from 4 pm-6 pm at the Quigley Sullivan Funeral Home, 337 Hudson Street, Cornwall-on-Hudson, NY. A Funeral Service will be held on Saturday, June 5th at 1 pm at the Cornwall United Methodist Church, 198 Main Street, Cornwall, NY.
In lieu of flowers, gifts in memory of Scott Hunt may be given to Gateway Mountain Center (sierraexperience.org), Lake George Association (lakegeorgeassociation.org) or Hudson Highlands Nature Museum (hhnm.org)
Robert "Rob" Howarth, Past Faculty
Howarth, B Roberts "Rob", 77, passed away on February 21, 2021, after a battle with Alzheimer's.  Rob was a loving husband, father and grandfather whose energy and passion were evident in every aspect of his life.  Rob grew up in Richmond, Virginia and graduated from Christchurch School and Randolph-Macon College.
Rob initially started teaching prep school and was an English teacher and basketball coach at Storm King, where his 1973 team won the prep league championship.  One of his basketball players said the following about Rob: "Coach had one of the most moving and memorable meetings before that championship game. In 1973 we had had a "so-so" season after a great 1972 team. Before that game, Rob called out the strengths of every player in the room and told us he loved us no matter what happened in that game. We went out a tore up the finals. He did a great job with us."
After teaching, Rob returned to Virginia and began a career in sales that would continue through most of his life.  He was the manager of Wilson Jewelers and owner of B Roberts Jewelers in Harrisonburg and was an American Gem Society member and an active participant in the Rotary Club and Emmanuel Episcopal Church.  Rob had other sales jobs, but jewelry was always his passion.  He eventually retired to Myrtle Beach, SC and enjoyed photography and finding treasures on the beach.  He relocated to Texas to be closer to family a few years ago.
Rob is survived by his sister, Meade Williams, of Richmond, VA; his children, David, and his wife, Meredith, of Dallas, TX; Bobby, and his wife, Carrie, of Monument, CO; and Sara, and her husband, Jason Wade, of Kingston, TN; and his grandchildren Sydnee Kurfehs, Jayven, Braylen, Channing, Morgan, Bennet and Harrison Howarth, and Kendall and Dylan Wade.
Robert Vanderbeck Jr. '70
Robert James Vanderbeck, Jr, SKS Class of 1970, 70 years old, of Nashua NH, lost his courageous but difficult battle with cancer on March 28th, surrounded by the love of his wife and children who were by his side.
Bob was born on February 6, 1951 to Robert and Helen Vanderbeck in Glen Ridge, NJ. After Bob graduated from Storm King School, where he earned the nickname "Weaver ", because of his athletic prowess, he went on to earn his bachelor's degree at Nichols College.
After graduation, he spent a few years skiing and bartending in Stowe, Vermont. It was during this time that he met his future wife, Sue Haberman. Bob and Sue married in 1980 and were blessed with two amazing children, Quinn, and Kimberly.
The family settled in Nashua, NH and Bob established himself in the auto industry. He worked at several dealerships over the years, but ultimately Bob was passionate about Mini Coopers. He spent the last ten years of his career as a salesman at Mini of Bedford, where he will be missed.
Bob didn't make it to retirement, but would have loved to have spent much of his time on the ocean, fishing.
Bob was predeceased by his parents, Robert and Helen, in laws Robert and Sylvia Haberman, and brothers -in-law Frank Balotti and Michael Taylor. In addition to his wife Sue, and children Quinn and Kim, he is survived by his sisters Marcia Balotti, and Joan Taylor, his beloved Maine Coon cat, Nim, as well as his sister-in-law , Wendy Haberman, and nieces and nephews who he loves.
Services will be announced at a later date, when friends and family are able to gather safely and celebrate Bob's life. In lieu of flowers, please consider a donation to an organization of your choice, perhaps The Humane Society, or the American Cancer Society.
John Branning Sloan, Class of 1949 passed away on March 4, 2021. He was born to John E. and Madelyn Branning Sloan on July 4, 1931, in Gardiner, NY.
John's primary education was at a one-room schoolhouse in Tillson Lake, NY. He graduated from Wallkill Central School in 1948 and Storm King Preparatory School in 1949. John began his college education at Lafayette College where his failure to master the mandated French language requirement led him to East Stroudsburg State Teachers College where he played basketball and graduated with a bachelor's degree in health education in 1954.
John began his teaching career in Pine Bush, NY where he also coached basketball and baseball. John met Doris Stephan at the Orange Bowl in Walden, NY and they married on December 21, 1958. The young couple moved to the Town of Newburgh to start a family and John took night classes at the State University of New York at New Paltz where he graduated with a master's degree in education in 1960. He was then hired as the principal of Vails Gate School in 1962 where he served for ten years while simultaneously opening Temple Hill School as principal in 1970.
John was an avid bowler and enjoyed coaching Little League, boating, and camping trips with his family. In 1986, John retired after 32 years as an educator and administrator and moved with Doris to SC where he served his community as president of the homeowner's association, golfed, fished on his boat, and relaxed on the porch with a beautiful view of the Intracoastal Waterway. "Papa" became doter-in-chief to his six grandchildren actively following their sports and academic pursuits while cheering for his beloved NY Yankees.
John is survived by his wife, Doris; son, Christopher of Gaithersburg, MD and daughter, Susan (James) Ronai of Orange, CT; grandchildren: Julia, Ryan, and Justin Sloan; Matthew, Brian, and Lauren Ronai. He was preceded in death by a daughter, Laura Lee, and son, John Frederic.
A celebration of his life will be held at the Reformed Church of Shawangunk in Wallkill, NY when the pandemic allows. Interment will be at the Brunswick Rural Cemetery. In lieu of flowers or a donation, the family requests that you call on a friend or do a favor for a neighbor or someone in need.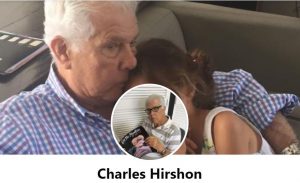 Charles Heimata Hirshon, Class of 1956, passed away on February 27th, 2021 in Papeete, Tahiti at the age of 83.
He was born on July 7, 1937 to Lewis Hirshon and Eugénie Winiki Amaru in Papeete, Tahiti. Charles grew up between Tahiti, Hawai'i, and New York, where he attended Storm King School. After a few years working at the New York Stock Exchange with his uncle Walter Hirshon, Charles returned to Tahiti. There, he launched his career as a successful serial entrepreneur and avid boat racer in the South Pacific. Throughout the 60s and 80s, he opened the first drive-ins and multiplex theaters throughout Tahiti, Raiatea, and New Caledonia. Additionally, he opened several restaurants and co-founded one of the leading newspapers in Tahiti, Les Nouvelles. In the 80s and 90s, he went into the wholesale black pearl business with his wife, Etsuko Sasaki, and they became one of the main black pearl wholesalers to Asia. In the early 2000s, he created the Carlton Plage and Carlton Hills, two luxury condominium projects located in Tahiti with his wife, Etsuko.
His family and friends will forever miss his gentlemanly charm, strength of character, storytelling, and joie de vivre.
Charles is survived by his wife, Etsuko Sasaki; his son, Teiva and wife Elisabeth; his daughter, Vaitiare; his son, Ruben; his five grandchildren, Marushka, Maximillian, Tatiana, Kenta, and Meleana; his three sisters, Evelyn, Turia, and Unutea; his two ex-wives, Nelly Toomaru and Galina Mirimanoff; and numerous other family members and friends, including the Leontieff, Sauzier, Guarducci, Ingham, Linton-Tishman, Paley, Newcomb, Shanks, Asars, and Rudzinoff families.
David E.A. Riker, Class of 1950, CLU, 7/17/32-2/25/21, passed away peacefully while holding the hand of his loving wife of 26 years, Lynne Baldwin.
David was a Trustee Emeritus of the Storm King School, having served on the Board of Trustees from 1984 to 2013.
His first wife Priscilla, pre-deceased him in 1992. He is survived by his beloved children, Edwina Brennalt & Daphne (Kevin Hagan); grandchildren Eric, Lynn, Kyle, & Jenny; great granddaughter Josefine; stepson Christian Vellenga; & his dog Bonito.
David belonged to SAR & Pundits. He was on the Vetsville board.
David was a brilliant, generous, kind & loving man. We will miss his wonderful hearty laugh, engaging smile & happy disposition. Sadly, he had Alzheimer's, but retained his witty charm almost to the end.
David founded D.E.A.R. Financial Serv. He enjoyed friends, family, lectures, karaoke & golf. He was always available to help people.
Pastor Sheila Guillaume will officiate a memorial at Lynne's LW home Thurs 3/25/21 at 3pm. Please call, text or email Lynne to get directions & reserve a seat outside for social distancing.
Published by The Palm Beach Post from Mar. 20 to Mar. 21, 2021.
Wesley Morse Gardiner, Class of 1945
In 2011 at age 82, Wes Gardiner wrote "I roomed in the old Main building with Mott P. Greene '45. Dean Dyar would read roll call, I can hear it now: Allen, Barnard, Baker, Cook, Carter, Cortes, Debes, Denecke, Dunn, Eager, Ennis, Etchinique, Field, Fitz-Simmons, Gardiner C., Gardiner W. . . I didn't pay attention to any of the names that followed. Best years of my educational career." A legacy family, Storm King School was also attended by his brother, Chandler Gardiner '43, and son Andrew '80.  Wes was the recipient of the Headmaster's Cup.
His obituary follows:
On Sunday, February 21, 2021, Wesley Morse Gardiner Sr. peacefully passed away surrounded by family at "1651", his home of 57 years in Palo Alto, California. Born April 8, 1928 in Providence, Rhode Island, Wes was one of three sons raised by Pauline and Chandler Gardiner. He attended Storm King School in Cornwall-on-Hudson, New York and entered Harvard University at the age of 16. After his second semester, Wes took a break from academics to enlist in the army. He returned to Harvard and graduated in 1950 with a degree in History after which he reentered in the U.S. Army to fulfill his ROTC commitment.
Back in civilian life, Wes headed to San Francisco to visit college friends. An informal interview with the dean of Stanford Business School led to his joining the class of 1954. He found housing as a Resident Advisor at the Deke House across The Row from Stillman House where at a "social" he fell for Stanford undergraduate Dianne Catlin from Boston. She told him she had a boyfriend. He replied "that's not my problem."  Wes and Dianne married on August 20,1955 in Brookline, Massachusetts. Despite their strong New England roots, the San Francisco Bay Area became their home having spent their honeymoon driving across the country.
Wes joined Macy's of California in San Francisco as a men's furnishings buyer and was later asked to establish "The Cellar" (Macy's answer to Dean & Deluca) as their international buyer of wines, liquors, and gourmet foods. Among others, he launched the career of Famous Amos who often left samples at the Gardiner Family home in Palo Alto. After 26 years with Macy's, Wes struck out on his own, rekindling his love of design and color, building several necktie brands, including a collaboration with Charles Schultz to design a line of Snoopy and Woodstock ties. His knowledge of wines led to a sideline as a consultant in the burgeoning California wine industry.
Wes was an active member of Foothills Swim & Tennis Club and of the Palo Alto Rotary Club. He was an enthusiastic skier and made biannual visits to hike in Yosemite. A family motorboat used during summers spent annually in Cohasset, Massachusetts was named after the National Park. Wes was an avid reader, enjoyed Stanford tailgates for decades, and never left a crossword puzzle incomplete. Widely recognized as a gracious host, Wes could be relied upon for his legendary Mai Tais, tasty Cottage Cheese Pancakes, and Spaghetti with Clam Sauce. He and Dianne especially loved extensive travel with family and friends. The Gardiner household was busy, fun, and hectic in the raising of five children. And for Wes, Dianne was always "the most wonderful woman in the whole world!"
Wes is survived by his wife Dianne; children Pamela (Peter) Wellin, Wesley Jr. (Jennifer) Gardiner, Andrew Gardiner (Allison Coleman), Suzanne (Edward) Bryan, Sarah (Howard) Farr; brother George (Joan) Gardiner; 12 grandchildren; nieces and nephews; and countless good friends. He was predeceased by his brother Chandler Gardiner Jr.
The family wishes to thank caregivers and Mission Hospice for their love and support of Wes and his family. In lieu of flowers, donations may be made in Wes's memory to Storm King School (www.sks.org), Yosemite National Park, or a charity of one's choice.
Further, the Gardiner family wishes to extend their condolences to The Creamery, Peet's Coffee, Books Ink, Dunkin' Donuts, See's Candies, and Mike's Café for their loss.
A Celebration of Life will be held at a later date.