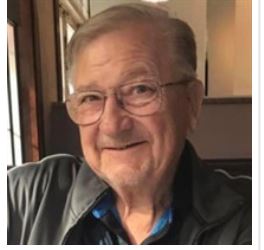 Mr. Thomas J. Gralla, Class of 1960 passed away on July 8, 2021
Beloved husband of the late Kathleen (White) Gralla and his previous wife the late Suzanne Gralla. Son of the late Victoria (Wezevitz) and Stanley Gralla. Loving father of Nicole Haywood and her husband George of Taunton, MA and the late Juliette Bourgeois. Cherished grandfather of Alexi Haywood, Jacqueline Bourgeois, and Angelique Bourgeois.
Thomas was born in Great Barrington, MA. He spent his childhood years in Housatonic, MA, lived in Walpole for many years, and eventually moved to Attleboro where he lived for his last 30 years.
Tom attended Storm King School where he played varsity soccer; JV basketball; varsity golf, and was captain of the golf team when he was a senior.  He was also in the band at SKS and in the Chess Club.  Tom went on to Suffolk University where he obtained his Bachelor's Degree. He worked at Alpha Industries as a Purchasing Manager and at Lopes Constructions in Sales for over 20 years.
Thomas loved the New England Patriots and the Boston Red Sox. He loved yard sales, antiques, collectibles, fishing and eating out. He enjoyed playing cards at the Attleboro Senior Center and spending time with his family.
In lieu of flowers, Thomas would have liked for you to give somebody a hug and to tell them you love them!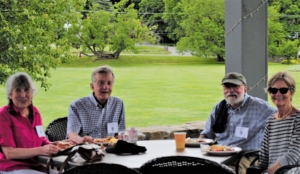 Ethel and Haddon Carryer '61 at Reunion 2022 with Dick DeRosa '61 and wife Sandy
July 9, 1942 - July 23, 2022
Haddon C. Carryer, 80, of Carlisle passed away unexpectedly in the Boundary Waters of Minnesota surrounded by his family during a canoeing trip. Haddon was the son of Dr. Haddon M. Carryer and Mabel J. Carryer. He grew up in Rochester, MN. He held a BS degree from the U of Tulsa and MBA from Indiana University Bloomington.
He spent his career in high volume manufacturing as a manager in purchasing and materials at GE, AO Smith, Tappan, True Temper Hardware; retiring from G.S. Electric (Carlisle). In retirement he was a substitute teacher for the West Shore and Big Spring School Districts. He took up woodworking with a focus on 18th century American Furniture. "Had" was an avid runner,running numerous marathons while fundraising for the Leukemia Society.
He was the Cub Master for Troop 189 at the Allison United Methodist Church. He was active in the startup of the Carlisle Regional Performing Arts Center serving as the 2nd president of the Theater Board. He spent 14 years as an International Sponsor for the US Army War College. He served on various committees during his 39 years in Carlisle.
He is survived by his wife Ethel (47.5 years), son Haddon Carryer and wife Jo of Rochester MN, son Lawrence Gener of Carlisle, son Benjamin Carryer and wife Jessica of Dubuque Iowa, brother Dr. Peter Carryer and wife Carol of Rochester MN, four grandchildren, numerous nieces and nephews.
A Celebration of Life is scheduled for Saturday September 24th at 3PM at the Carlisle YWCA.
In lieu of flowers, memorial contributions may be made to the Carlisle Theatre. www.carlisletheatre.org
Richard Romano, class of 1958, was born January 7, 1940 in Newburgh New York. He passed away Sunday May 15th, 2022.
Richard was a day student at SKS and played football, hockey, and baseball. His fondness for SKS was apparent by his volunteering as a Class Agent.
His obituary said that Richard found his way to the Outer Banks of North Carolina in 1993 because of his job for Waste Management, Inc. He worked out of Virginia Beach for a short time and then found out he could work remotely on the Outer Banks and was thrilled to do so. He managed the waste site from Moyock, NC to Nags Head, NC for 15 years before he retired. While working on the Outer Banks, he could often be found driving his little four wheel drive up and down the beach with his trusty cocker spaniel "Skipper". He was fundamental in founding the Outer Banks Parrothead Club and served as their treasurer for many years.
In 2002 he met Charlie (Charlotte Steward) and together they shared many adventures traveling, and selling tropical clothing at various Parrothead conventions for his tropical clothing business "Kokomo Island Traders". This was an item on his bucket list and he was really good at it.
In 2009 he and Charlie were married on the beach in Kitty Hawk and had the best reception at their house. When Charlie retired in 2013 they moved to Vero Beach, Fl. to live out the rest of their time together along with their springer spaniel "Daniel".
Stephen Mandell, Past Faculty
Stephen Mark Mandell, born October 11th, 1962, passed away on Saturday, May 28th, 2022 - in the love and company of his family.  Preceded in death by his mother, Elaine Mandell, stepmother, Donna Mandell, and four grandparents, Stephen made his mark in the field of education over a thirty-year career in New York, Florida, and his adopted home state of South Carolina.
Born in Pittsburgh, Pennsylvania, his family moved to the Bronx, New York, as well as Dayton, Ohio, before settling in Westchester County, New York.  A letterman in football, wrestling, hockey, and his primary athletic love, lacrosse, he graduated from the Pomfret School in Connecticut in 1980.  Stephen attended the University of Massachusetts, graduating with a Bachelors degree in Legal Studies.  Upon graduation, he embarked on a ten-year career in logistics, working for Harper-Robinson & Company as well as The Eagle Companies in south Florida.
Yet all roads brought Stephen to a life dedicated to others through education.  Returning to New York state, he spent three years as the Chief Financial Officer/Director of Cadet Services at New York Military Academy in Cornwall-on-Hudson and was the Assistant Head of School at The Storm King School from 1997-2000.
Stephen and his family later moved to Columbia, South Carolina where he worked in various roles at Heathwood Hall Episcopal School for nine years and ultimately rising to Director of Student Services.  After serving as Head of School for The Pine School in Stuart, Florida, Stephen's professional career led him back to South Carolina, where he served as the Head of School of Pinewood Preparatory School in Summerville, retiring in 2018 so that he could directly dedicate himself to schools, youth-serving organizations, and non-profits as Founder and Managing Director of Big Back Pack.
Armed with a Masters of Education in Leadership and Administration from the University of South Carolina and decades of experience in creating numerous programs and curriculum for student safety & security, student guidance, faculty professional growth, and health education, Stephen set out to continue his vision of advocating student-centered education and supporting the professional development of educators and school professionals for the remainder of his life.  Stephen never measured his impact in the weight of his achievements but in the multitude of personal relationships he nurtured and cherished with his former students and colleagues over the years.
Recognizing that learning truly continues at the end of the school day, Stephen coached and mentored generations of student athletes. During his years in New York, he built a bridge for students in Canada seeking the opportunity to sharpen not only their games on the lacrosse field but their minds in the classroom as well. For these contributions and countless others, Stephen was elected to the Storm King Athletics Hall of Fame in 2022. Continuing his service to the game of lacrosse when he moved to South Carolina, Stephen was instrumental in the formation of high school lacrosse in the state, where he coached, officiated, and was a tireless supporter of the sport's growth, ultimately being elected to the U.S. Lacrosse Hall of Fame – South Carolina Chapter.
Those that know Stephen's commitment as a coach, an advocate, a mentor, and an educator, also know those roles paled in comparison to his commitment to and love for his family.  Married to Beth Mandell for thirty-six years, together they raised their son, Adam, and daughter, Lily as well as four-footed sons, Ringo and Duncan.  Stephen is survived by Beth, Adam, and Lily as well as his father, Stanley Mandell of Lancaster, Pennsylvania, brothers Albert Mandell (Rose) of Mountainville, New York, Richard Mandell (Mary) of Southern Pines, North Carolina, Matthew Mandell (Laura) of Lancaster, Pennsylvania, and Sister Michele Cherry (Mike) of Glen Arm, Maryland.  Stephen also leaves behind his nieces and nephews, Frank, Harry, Thomas, Joshua, Donivin, Cooper, Francesco, and Olivia.
A gathering to remember Stephen will be held on Thursday, June 2nd, at 6:00 p.m. at Chabad of Charleston – Center for Jewish Life (477 Mathis Ferry Road, Mt. Pleasant, SC, 29464).  In lieu of flowers, Beth, Adam, and Lily request that donations be made to Darkness to Light, a non-profit organization which shares Stephen's mission to end child sexual abuse by building prevention-oriented communities that protect every child's right to a healthy and safe childhood, 4900 O'Hear Ave., Suite 205, North Charleston, SC, 29405. Please include "Stewards of Children Curriculum Development in memory of Stephen Mandell" in the check's memo line. To donate online, go to D2L.org, select the donate button on the home page, and please type "Stewards of Children Curriculum Development in memory of Stephen Mandell" in the  appropriate field.
To plant a beautiful memorial tree in memory of Stephen Mandell, please visit our Tree Store
Peter Balen Redfield of Buckeye, AZ passed away quietly in his sleep on April 24, 2022 at the age of 86 from a long battle with cancer.
Pete was born in New York on February 22, 1936. He attended the Dalton School in Manhattan and graduated from the Storm King School in 1955. Pete attended New York University and graduated with a Bachelor of Science from the School of Commerce in 1964. Pete also spent some time in the USAR, Ready Reserve from 1959-1961. He was Honorably Discharged from Army Standby Reserve on February 7, 1961.
He met his wife to be, Patricia McCormack in '58 while working at U. S. Trust. They got engaged and married a few years later at the Church of St. Raymond, Bronx, NY, on August 12, 1961.  Their romance lasted 59 years and were blessed with three wonderful children and six grandchildren, and three greats.
Most of Pete's professional career was in the finance industry. These included U. S. Trust, Lionel D. Edie & Company, and Mead's of Greenwich Business Owner. He dabbled in the Travel Industry setting up Large Corporate Events/Meetings, and finally after a Buckeye Police Volunteer job, with his handle, "Victor 109", he happily retired.
Pete and Pat lived a beautiful life and enjoyed traveling together throughout their later years of marriage. These adventures covered the globe and almost always included golf. Hawaii was their favorite. He was a music lover who cherished the sounds of vinyl records of his favorite bands: Miles Davis, Dave Brubeck and Herb Albert & the Tijuana Brass.  He played drums in a jazz band for many years after college. Pete was never classically trained to play piano but was able to "play by ear" anything he heard without sheet music.
Pete was a member at the Milbrook Club in Greenwich, CT where he would spend countless hours practicing and playing golf. He loved playing in competitive tournaments and was a former Milbrook Club Champion. Pete was also a member of Wyantenuck Country Club in Great Barrington, MA.  His favorite tournament was the Invitational which he played every year. After retiring in 2006, Pete & Pat packed up their east coast lives and moved west to Arizona.  Pat began a new career in Real Estate and Pete continued to hone his golf skills all year round at the Verrado Golf Club, without the interruption of the northeast winters. He found a great group of friends and fellow golfers at Verrado Golf Club called "The Old Dogs".  They played golf and wagered every week.  He was a single digit handicap for most of his life and was a great putter.
Pete was predeceased by his father, Robert Latimer Jr. and mother, Elisabeth McKernon as well as his wife Patricia. He is survived by his son Robert (Suzanne); his daughters Holly Nott (Mike) and Tracy Russo (Jim); his six grandchildren Kelly Hallett, Erin Gallo, Patrick McGinty, James Russo, Andrew Russo and Isabelle Redfield; his three great grandchildren, Addison Gallo, Lincoln McGinty and Marley Hallett.
Above all, Pete will be remembered for his bright smile, friendly nature, love of telling jokes and devotion and love of family. Pete answered Pat's prayer and became a follower of Christ later in life. He was baptized December 5th 2021, at the age of 86. He looked at the congregation and said with his arms open wide, "better late than never!"
A "Celebration of Life & Old Dogs Golf tournament" will be held on Wednesday, May 18th, 2022 at 3:00 PM at the Verrado Golf Club in Buckeye, AZ. In lieu of flowers please consider making a donation in Pete's honor to Storm King School, 314 Mountain Rd., Cornwall on Hudson NY 12520/ https://1321.thankyou4caring.org/sslpage.aspx?pid=298 or American Cancer Society, P.O. Box 22478 Oklahoma City, OK 73123.
Dr. Judith Bennett, Past Faculty
Dr. Judith Bennett
September 7, 1934-February 26, 2022
The Reverend Dr. Judith Bennett, 87, of Shelton CT passed into the nearer presence of God on February 26th, 2022. She was born September 7, 1934, in Portland, OR.
In 1953 she married David W. Bennett and they moved to the east coast. She received a B.A from Mount Saint Mary College, Newburgh, NY, while working as a news editor, reporter and photographer for The Cornwall Local and raising her four children. During her years in Cornwall, NY, she founded the Wesleyan Dancer, a liturgical dance ensemble. They performed in churches throughout the Hudson Valley. She taught modern dance at The Storm King School. Judy gelt called to ministry and attended Drew Theological School in Madison, NJ, receiving her Master of Divinity in 1977. She returned to Drew and earned a Doctorate in Sociology of Religion. Rev. Bennett held pastoral assignments at several churches in the NY Conference of the United Methodist Church. From 1990 until 2000, she worked for the Virginia Council of Churches in Richmond, VA, and served as Executive Director of The Ecumenical Resource Center. In 2001, Rev. Dr. Bennett joined the faculty at the Samuel DeWitt Proctor School of Theology at Virginia Union University. Her "passion for the life-giving, life-renewing nature of the gospel" led her to work with organizations that called attention to issues affecting women and children.
Judy is survived by her four children - Stephen. John, Joanna, and Jim, their spouses, seven grandchildren, one great-grandchild, and her beloved car, Louie.
A memorial service will be held at 11 am on April 29 at Good Sheperd United Methodist Church in Richmond, VA. In lieu of flowers, donations may be made in her honor at The Resource Center, resourcingchurches.com, or you local SPCA.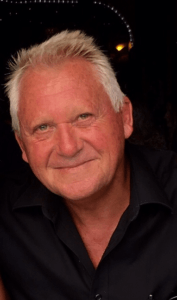 Obituary of Balazs Szabo
After a courageous battle with cancer, it is with extreme sadness that we announce the passing of Hungarian artist, Balazs Szabo, on January 5, 2022.
Born on February 10, 1943, in Budapest, Hungary, Balazs lived a life that was as colorful as his artist palette drenched with vivid and intense colors. The stories he shared about escaping Hungary during the Hungarian Revolution in 1956 caused loud gasps of disbelief among his listeners. Learning about his travels in a way that only he, as an artist who noticed every minute detail of his surroundings, could bring life to, made for long evenings of colorful conversation. We lovingly referred to him as "the encyclopedia of useless knowledge" because there was never a subject that came up in which he didn't enlighten his guests with some "tid bit" of crazy, useless information.
Balazs was a revolutionary artist, no label fit him perfectly, as his influences were drawn from diverse movements. He always said, "I don't have a particular style." His brushstrokes met his canvas like magic with no intention other than to put his own understanding of the subject matter to life. Balazs painted with passion...he lived his life with passion and he will be missed. His life did not end with his last breath as his story and the art he blessed this world with will live on forever.
Balazs is preceded in death by his father, Sandor Szabo, his mother, Jadda Jalsovszky, his stepmother, Barczy Kato, and his son, Sandor Szabo. He is survived by his son, Dominik Szabo, his brother and sister-in-law, Barna and Colleen Szabo and nephews Tait and Ashton Szabo.
A service will be held on 
Saturday January 15th at 10 AM at the Walker's Funeral home in Hillsborough NC and will also be lived-streamed at 
Szabo Livestream Service - YouTube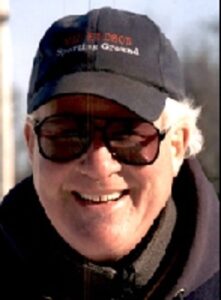 Peter Carleton Wicker
Goshen,, New York
Peter Carleton Wicker,72, of Goshen, New York, passed away on November 6, 2021 at his home. Peter was born in 1949 in Poughkeepsie, New York, he was the son of the late Carleton F. and Catherine E. Wicker.
Peter was a graduate of the New York Military Academy, Cornwall-on the-Hudson, NY, Class of 1967 and Norwich University, Class of 1971 Northfield, Vermont. Peter earned a Bachelor of Arts in Education. While at Norwich University Peter played four years of Varsity Lacrosse. He was an All-American, Second Team. He competed three years in Varsity Hockey resulting in being drafted by the New York Islanders NHL. He played ten years of Minor League Hockey-NEHL, and for eight years was captain.
Peter was a NY State certified teacher for grades 7-12 in English and History. He completed 27 years of service at the New York Military Academy as a teacher, Coach, Athletic Director, Director of Admissions, and Deputy Superintendent. His dedication to the Academy earned him the Meritorious Service Award. In 1997 Peter became the Associate Head of School and Director of Admissions at The Storm King School, Cornwall-on-the Hudson, NY.
Peter was a member of The National Rifle Association, Ducks Unlimited, Norwich University Partridge Society.
After a career in education spanning 32 years, Peter was employed by Mid-Hudson Sporting Clays as the General Operations Manager. In 2016 Peter became an independent Sporting Clays Instructor.
Peter was a loyal friend, fun loving and caring. He was always ready to lend a helping hand. He will be missed by all who knew him.
Peter's survivors include Maureen, the love of his life of 33 years, his sons Kenneth of Goshen, NY, Peter of New Windsor, NY, Christopher of Viera, FL, and Maureen's children, Thomas of Gambrills, MD, and Rosemary of Naples, FL, seven grandchildren, three great-grandchildren and several nieces and nephews.
Cremation occurred on November 9, 2021, at Oxford Hills Crematory, Inc. Chester, NY.
A Funeral Mass will be held on Thursday, November 18, 2021, at 11:00 am, at St James Episcopal Church, 1 St. James Place, Goshen, NY. The Reverend M. Carl Lunden will officiate. Masks are required for attendance during the Funeral Mass.
Memorial Contributions shall be made to Hospice of Orange and Sullivan Counties, Inc. 800 Stony Brook Court, Newburg, NY 12550, and to St. Jude's Children's Research Hospital, St. Jude Place, Memphis, TN.
Funeral arrangements and cremation care have been entrusted to Thomas & Brendan Flynn and the staff of Flynn Funeral & Cremation Memorial Centers, Inc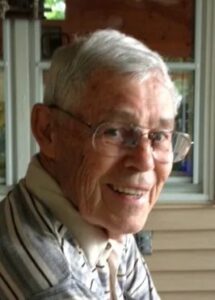 Mr. Smith attended SKS for a post-graduate year and, while here, he played soccer, football, basketball and baseball.  He was also a member of the Cum Laude Society and upon graduation was the recipient of the honor of The Headmaster's Cup.  Some sixty years after graduation he wrote "I still think about my days at Storm King……"
Eric H. Smith, 92, husband of Jean Wade Smith of 46 Argilla Road in Ipswich, died on Saturday November 20, 2021, surrounded by his loving family.
Eric passed away at the Ledgewood Rehabilitation Center in Beverly following a lengthy battle with Alzheimer's disease.  Prior to Ledgewood, he had lived at the Residence Riverbend in Ipswich for four years.
Eric was born in Newburgh, N.Y., on May 21, 1929, the son of the late Ernest and Nellie (Nunn) Smith.  He was raised in Cornwall, N.Y., where he was a 1946 graduate of Cornwall High school and a 1947 graduate of the Storm King School.  He graduated from Union College in 1951 with a B.A. in economics. He was a member of Phi Sigma Kappa.
While at Union, Eric was very involved in sports and was instrumental in making soccer a varsity sport there. He helped form their soccer team and served as its captain in its second year. He went on to play semi-professional soccer in both Schenectady and San Jose.
Eric and Jean were married in 1951 and lived in Schenectady, N.Y., San Jose, Calif., and Westport, Conn., before retiring to Hilton Head Island, S.C. He worked his entire career in public relations for General Electric, retiring in 1988.
Eric was a gifted athlete and enjoyed various sports throughout his lifetime. He umpired Little League baseball and coached youth soccer.  Eric took up tennis in his 50s and played several times a week while he was a member of the Sea Pines Country Club.  In retirement, he participated in the South Carolina Senior Olympics and won several medals in swimming, tennis, and softball.  He enjoyed playing bridge and loved music, especially Frank Sinatra. He summered for over 40 years in his lakefront home in upstate New