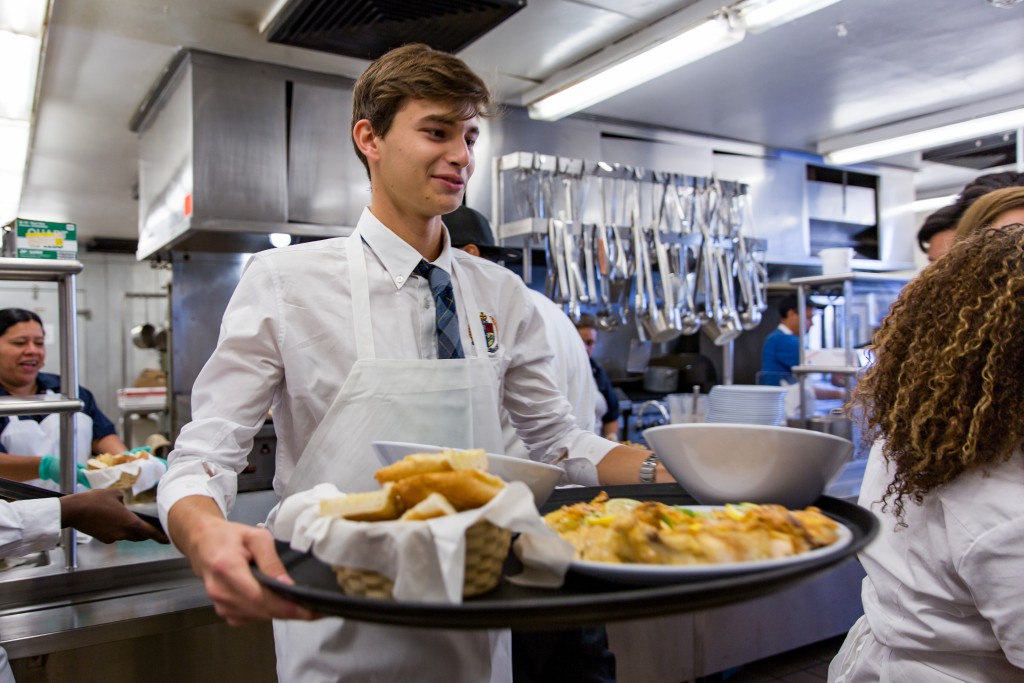 FUEL YOUR MIND & YOUR BODY
At Storm King, the food we eat is simply delicious. Open seven days a week—for breakfast, lunch, and dinner—we offer a wide variety of hot entrées and vegetarian options complemented by a full salad bar, homemade soups, artisan sandwiches, noodles, and hand-crafted desserts. 
You'll enjoy authentic recipes from around the world and traditional classics at our dining hall which offers spectacular views of the Hudson River and Catskill Mountains. We prepare healthy food for all appetites, including vegetarian, vegan, low-fat, plant-based, and gluten-free options. Snacks are always available between meals.
The Storm King School's dining program works diligently to provide the best choices for our diners' health, our local community, and the environment.
A very high percentage of natural and in-season organic food
All natural meat and poultry (including deli meat) are free from additives, hormones and antibiotics
Local organic fresh milk and other local dairy products including butter, cream, cottage cheese, and yogurt
Eggs from cage-free chickens
Offerings with virtually no high fructose corn syrup
Several varieties of 100 percent juice
Noodle bar where diners create their own noodle bowl, including their choice of noodles, vegetables, meats, seafood, and sauces
DIETARY NEEDS & FOOD ALLERGIES
The food service director takes dietary needs and food allergies very seriously. Some of our students and staff are sensitive to nuts, gluten, dairy and other foods, and we accommodate those needs by offering dining options such as:
daily salad bar that contains fresh and seasonally locally grown produce and organic field greens
daily soup bar with one vegetarian or vegan option and one meat option
hot meals with meat, vegan, or vegetarian options