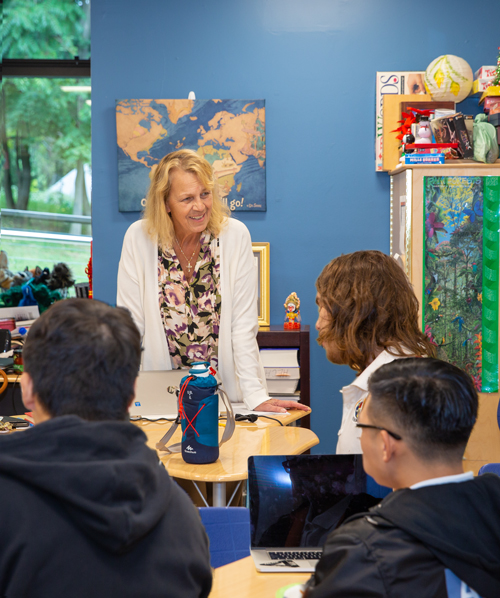 The goal of the SKS ESL Program is to provide students with sufficient instructional and social support that would enable every one of them to successfully develop and continuously improve a set of skills necessary to participate fully in our school academic and social activities, as well as in all spheres of local and global English-speaking communities.
Our objectives are to prepare independent learners who alongside English language abilities will  develop and practice transferable skills needed to succeed in the demanding academic, professional, and social life of the 21st century.
To this end, we are offering a comprehensive approach to the ESL screening, placement, program delivery, and assessment. While constantly improving listening and speaking, reading and writing in a content- and project-based instructional environment, we focus on the enhancement of the main enabling skills, such as vocabulary building and grammar. Our students practice these skills in various carefully designed academic and social settings that include inter-disciplinary courses, an International Fair, summer programs and educational trips aimed at bridging ESL with other courses.
ESL Academic Skills class is continuing the critical thinking skills the student needs for higher level learning. Collaborative projects, research papers and presentation skills are broadened and enhanced by peer interaction and experiential education.  SAT and TOEFL sample tests are taken in preparation for the upcoming schedule. Writing and communication skills are strengthened through ongoing conversations, presentations and debates, essay and research papers.
ESL Literature and Composition is structured to provide reading skills as well as communication skills, writing skills and presentation skills to English Language learners. Establishing their background knowledge, the goal is to build a strong vocabulary base, increase comprehension and reading rate, as well as develop public speaking and writing skills.
ESL Conversation and Listening this course is designed to improve students' accuracy in using English in classroom, formal and social situations, and to help them understand the changing world around them. Students study and interpret a range of texts, videos and communications. Activities also help students to develop their oral presentation skills, writing skills and acquire study skills (including note-taking and summarizing skills) that enhance their ability to learn in all subjects.