Despite the rainy weather, The Storm King School community came together for a Halloween filled with great costumes, a lot of candy, and some hair-raising fun. On Thursday, October 31, the activities began at breakfast when students and faculty emerged dressed as ghouls, goblins, favorite film characters, and more.
The first event– a costume contest organized by art teacher Ms. Liggett– was held during the morning's common work period in the Walter Reade, Jr. Theatre. The participants paraded their costumes on stage as students and faculty cast their votes online for the best and most creative costumes in various categories. One of the most memorable costumes was worn by Mr. Mendlewski who rode his bike around inside the Theatre with E.T. in the basket. The contest also featured a synchronized dance routine to Michael Jackson's "Thriller" by our dance students and a brief 'lights out' as a special SKS parent wearing a neon costume ran up and down the aisles. Winners of the contest were announced at dinner.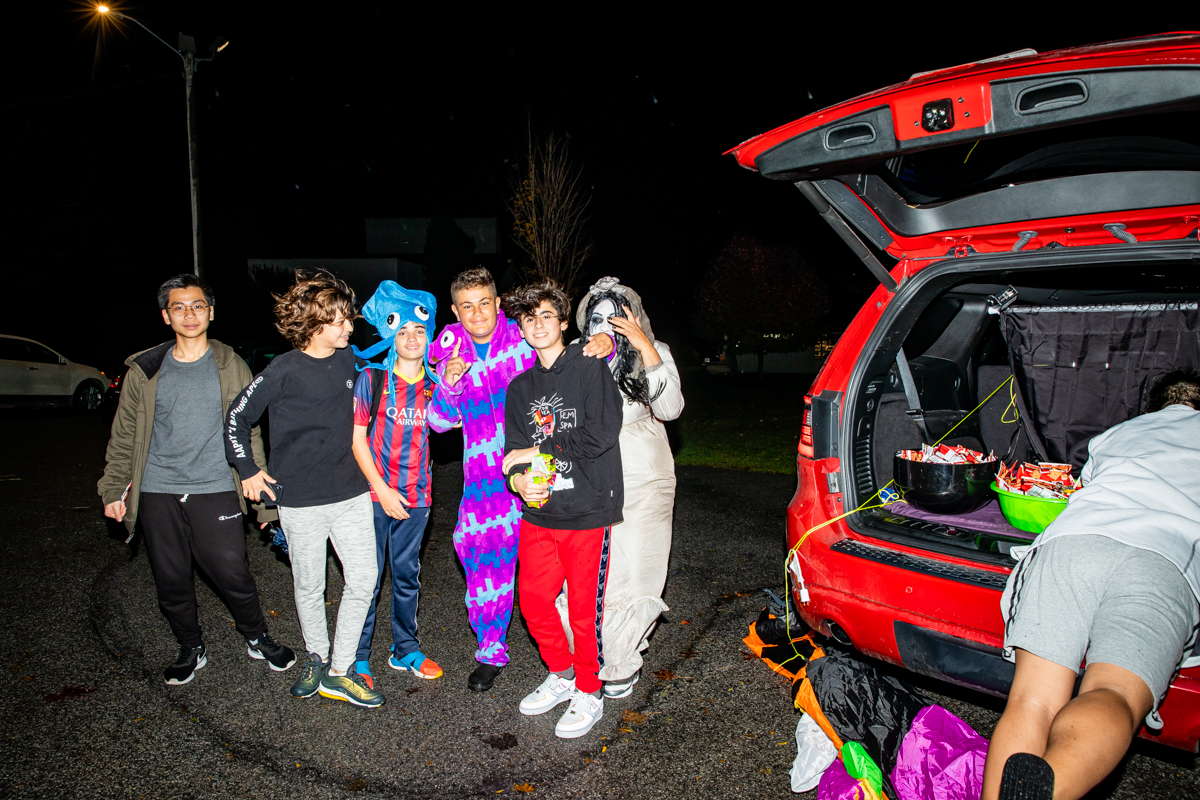 STUDENT WINNERS:
Best Student Group Costume: Horse – Kaitlin B. and Sofia B. – "Horse"
Most Creative Costume: Emily Elizabeth K. – "Eve Hallows"
Best Overall Costume: Connall S. – "Connall McDonald"
FACULTY WINNERS:
Best Group Costume: Mr. and Mrs. Lewis – "Dorothy and the Tin Man"
Most Creative Costume: Mr. Mendlewski – "E.T. the Extraterrestrial"
Best Overall Costume: Mrs. Myers-Brown – "Little Bo Peep"
After dark, many students made their way to The Homestead to sample Ms. Toni's caramel apple slices and other treats before they entered the Haunted House set up downstairs in the gymnasium. Laughter mixed with screams could be heard as the students made their way through the spooky corridors, listening to the chilling story of "Mr. Hauntington"– a former Storm King teacher whose spirit is said to still linger on campus. The rest of the evening the students spent Trick-or-Treating and enjoying the candy they collected.
Halloween fun has become a tradition at SKS and is a great example of how our students are encouraged to express their creativity and participate in campus activities. Thanks to the combined efforts of the Student Council, the Office of Student Life, the SKS Parents Association, Ms. Megan Liggett, and all SKS faculty, staff members, and parents who helped out, our community enjoyed another great Halloween celebrated in true Storm King fashion.