The Storm King girls volleyball team clinched the NEPSAC Class D championship title in an exciting final against Wooster School on Sunday, November, 17.  The girls exhibited a magnificent display of skill, sportsmanship, and teamwork overcoming a strong opponent 3-1 to win SKS' first-ever NEPSAC volleyball championship. Headmaster Jonathan Lamb, faculty members, and family traveled to Danbury, CT, on Sunday to cheer the Cougars on.
The first game of the match progressed as an exciting and nerve-wracking back-and-forth, with Storm King emerging victorious at the end of several long scoring runs by both teams. In the second game, Wooster pushed back hard, chipping away at SKS' defensive scheme; winning with a decisive lead 25-7. Pulling together in the third game, Storm King came back strong. The Cougars fought hard, battling Wooster for every point and their 26-24 win became the turning point of the match. The fourth and final game saw some feverish, long volleys, but Storm King was unrelenting as the girls scored point after point, coming away with a 24-16 score and the New England Championship title.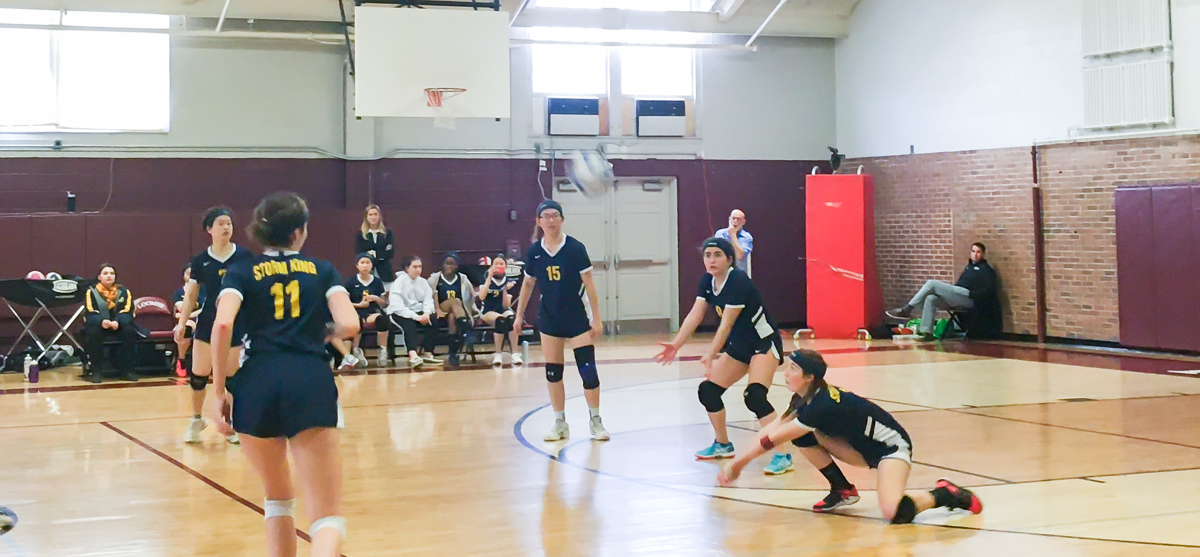 Storm King was led by Senior Captain JoJo Gong who scored consistently throughout the match, Senior Rory Tobin who brought a high "volleyball IQ" to the court, and rising sophomore Zoe Budde who consistently overcame the Wooster defense. In addition, seniors Seina Kusonoki and Linyin Wang and junior Sude Bakal played with great fortitude and courage, constantly rebutting Wooster's attacks.
"The girls played with breathtaking resilience throughout the final," commented SKS Athletic Director Joseph Graziosi following the match. "Kudos also go to Coaches McMahon, Watts, Schade, and Liggett for their work with the girls all season, and keeping them cool and focused under the most stressful situations. It was a spectacular performance to conclude a spectacular season. Congratulations to all."