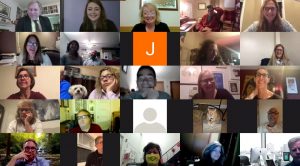 During a usual year at Storm King, the second or third weekend in October is reserved for Fall Parents Weekend – an event that includes in-person Parent-Teacher Conferences, student performances, campus tours, a reception for parents, and more. This year, instead of a bustling campus filled with visiting families, Parent-Teacher Conferences took place virtually, and our traditional visual and performing arts recital was also brought to the community online. According to the positive feedback received so far, our first virtual Parents Weekend was a success and many of our families feel more connected with the School than ever.
Virtual Parent-Teacher Conferences took place over the course of four evenings on October 19th through the 22nd. Participation was strong, especially by international parents, who discussed their child's progress in individual Zoom conferences from all over the globe. Later hours worked well for those in different time zones, and teachers and administrators made special accommodations for parents who needed to schedule meetings at different times.
In the spirit of our traditional in-person Fall Parents Weekend events, the Visual and Performing Arts Departments prepared virtual presentations of their students' work. A heartwarming video titled Dancing Together 6 Feet Apart features Mrs. Jacobson and her dance students practicing their routines in socially-distanced spaces and gives an inside look at dance classes at Storm King. To showcase the visual arts, a colorful virtual exhibition features the artwork and video created by our students this semester. As always, our students worked incredibly hard under the guidance of their teachers to create these truly outstanding works. Viewers are asked to sit back, relax, and enjoy this year's virtual Parents Weekend events!
Watch our dance students performance:
Take a look at what our student artists have created: