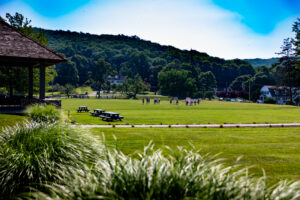 The Storm King School is ready for a great new school year back on our scenic mountain campus and back to in-person instruction. After more than a year of pandemic-related modifications to the school calendar and class schedules, and frequent moves to online instruction, life and learning are getting back to normal for the 2021-2022 academic year.
Despite the challenges of recruiting students in a world still emerging from the pandemic, this year's enrollment numbers are substantial. We will welcome 175 students who come to Storm King from 23 different countries across 5 continents. Interestingly, for the very first time since the School's inception in 1867, female students will hold the majority, with 91 girls enrolled at Storm King this year. Along the same lines, we will also welcome the largest group of day students in the School's history as 70 local students will call Storm King School their home during the 2021/22 school year.
As they reconnect with returning students and get to know our newcomers, the faculty and staff could not be happier, especially members of the Admissions Team. Assistant Head of School for Admissions and Marketing, Marek Pramuka, is pleased with this year's numbers. "Despite the challenges of the global pandemic, our enrollment is strong once again this year. Which is a testament to the reputation our School enjoys both domestically and globally." Mr. Pramuka went on to explain, "students who attend our School are inspired and supported by our exceptional faculty and staff. They are immersed in a nurturing environment where they are emboldened to dream big and reach for the stars. As a result, our students get into great colleges, which in turn attracts students to The Storm King School. Not even a global pandemic can change this."
"This year, we will once again welcome an outstanding group of teenagers to our campus. Among them are winners of science Olympiads, published writers, athletes who represent their countries on junior national teams, budding artists, and young scholars who want to make a difference in tomorrow's society," continued Mr. Pramuka. He attributes the ability to enroll such a diverse and talented student body to the financial aid committee's hard work and the generosity of our SKS alumni and friends. Their combined efforts resulted in $2.8M in financial assistance to support our student's academic pursuits.
Mr. Pramuka is particularly excited to see our students resume their after-school activities this fall. "I look forward to watching our art students perform live, and our athletes compete once again. Under the guidance of Coach Jermaine Miller '91, the girls basketball team should rank among the very best in prep school basketball, and the rest of our teams will not be far behind. The same goes for our Model United Nations program. It is going to be a great year," he continued.