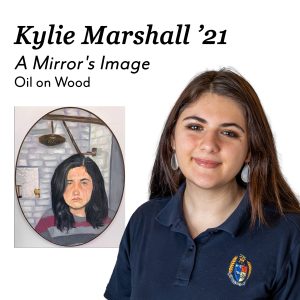 Kudos to Storm King junior Kylie Marshall and senior Jiaqi Ding who are among 100,000 students recognized for their artistic talents by Scholastic. On Friday, February 7, Kylie and Jiaqi traveled to the campus of SUNY New Paltz to attend Scholastic's 2020 Hudson Valley Scholastic Art Awards. At the ceremony, Jiaqi received three Gold Awards; one for her watercolor entitled In Light, and two for her digital art pieces entitled Whale and Alice & Wasteryard. Kylie won a Silver Key Award for her oil on wood painting entitled Mirror's Image. This year's ceremony was the second for Jiaqi, who also won a 2019 Silver Award as a junior for her work entitled Tree of Nature.
The Scholastic Art & Writing Awards is the nation's longest-running and most prestigious recognition program for creative teens in grades 7–12. Students from across the country submit nearly 350,000 original works each year in 29 different categories of art and writing including photography, painting, digital art, poetry, science fiction & fantasy, and others. The top student-artists and writers at the regional level are then moved on to the national stage. Medalists at the national level are celebrated at the National Ceremony at Carnegie Hall in New York City each year.
Winning a medal at any level is a noteworthy achievement and can play an important role while applying for college and scholarships. Congratulations to Jiaqi and Kylie for their excellent work!