"A breath of fresh air" and "transformational in this age of social media" were only some of the comments parents used to describe The Storm King School's 6th Annual Poetry Festival. This celebration of creative writing, poetry, and language took place on the evening of Saturday, April 30, 2022 in the Walter Reade Jr. Theatre as part of the School's Spring Arts Weekend.
Now in its sixth year, the Poetry Festival is the culmination of a regional poetry contest open to SKS students and students from other independent schools throughout New England. Run by Storm King School English Department faculty, the contest received more than 400 poetry submissions from 23 schools this year– the largest number to date.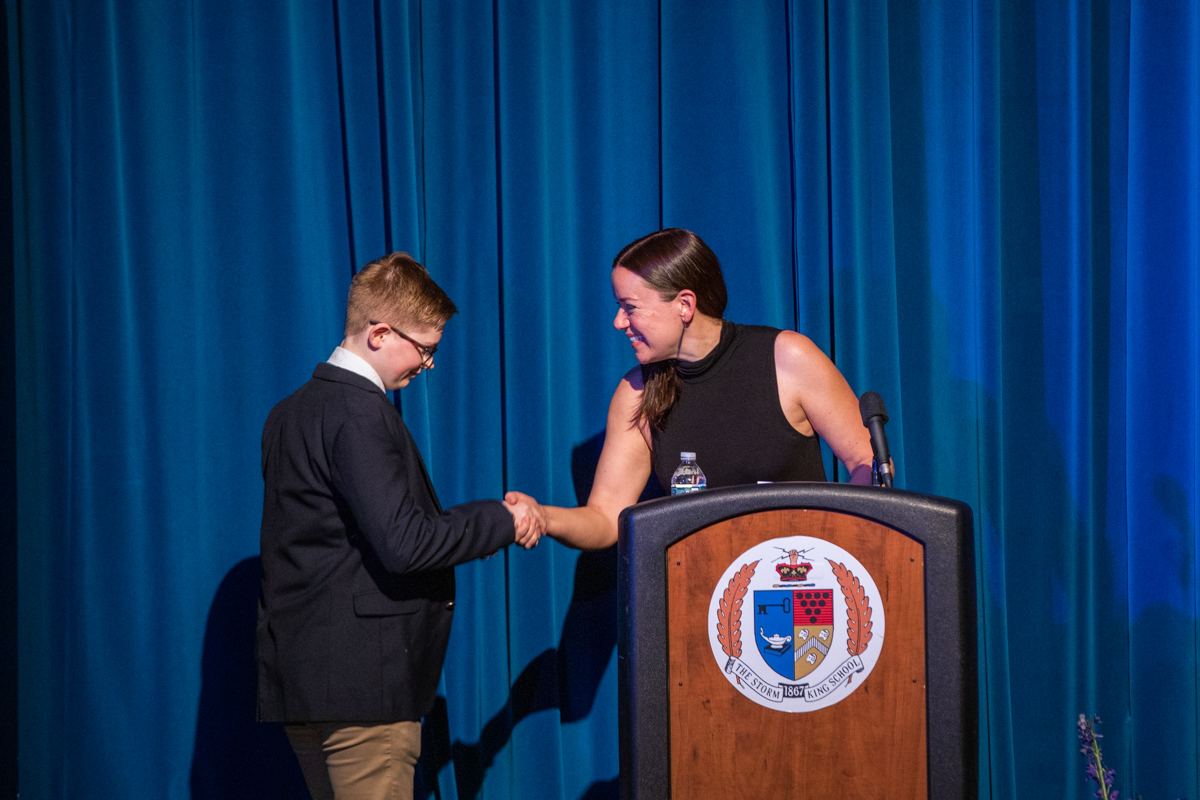 Twenty poems were chosen as finalists by this year's judge, Joanna Solfrian, who read the winning poems aloud during the event. Several winning poets also read poems of their choice by a favorite published poet.
The Poetry Festival began with a reception and music in the lobby of the theater. Head of School Jonathan Lamb kicked off the evening by welcoming the poets and their families, introducing Ms. Solfrian, and thanking the English and humanities teachers who encouraged their students to write poetry and submit their work.
"Spring is always an exciting time for the arts at The Storm King School. Poetry is a special language that prompts us to think, feel, and to see more deeply between the lines on a page at the images spawned by its words… Poetry is very 'unFacebook-like' language because it asks the audience do more than simply like or dislike it. It requires reflection both by those who create it and by those who witness it," explained Mr. Lamb.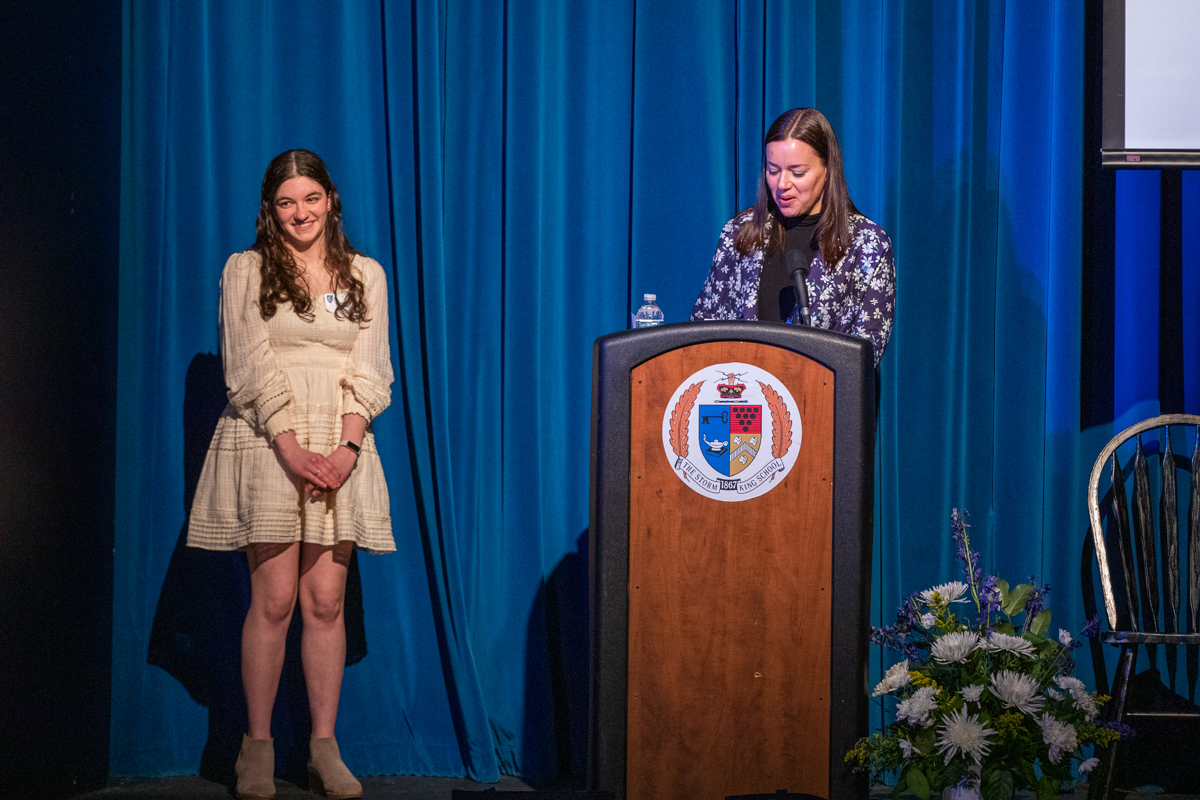 Dean of Faculty Jeremy Freeman also had encouraging words for the poets: "After this long period of difficult times, we are here tonight to celebrate what you young folks were brave enough not give up on– that is your voice." English teacher Dr. Mark Rigg, who joined Ms. Solfrian at the podium to read the final three stand-out poems, added "please remember that there is no such a thing as a 'best poem.' Out of all 400 submissions, we could have chosen quite a few more than the 20 presented here tonight, and all of the poems you've written are equally great in their own unique ways."
Many thanks go out to the poets and families who traveled to Storm King from other schools to join us for the event; to their English and humanities teachers who encouraged them to participate; and to all of the schools and poets who submitted their work to the contest this year. We hope to see many of them back again next spring!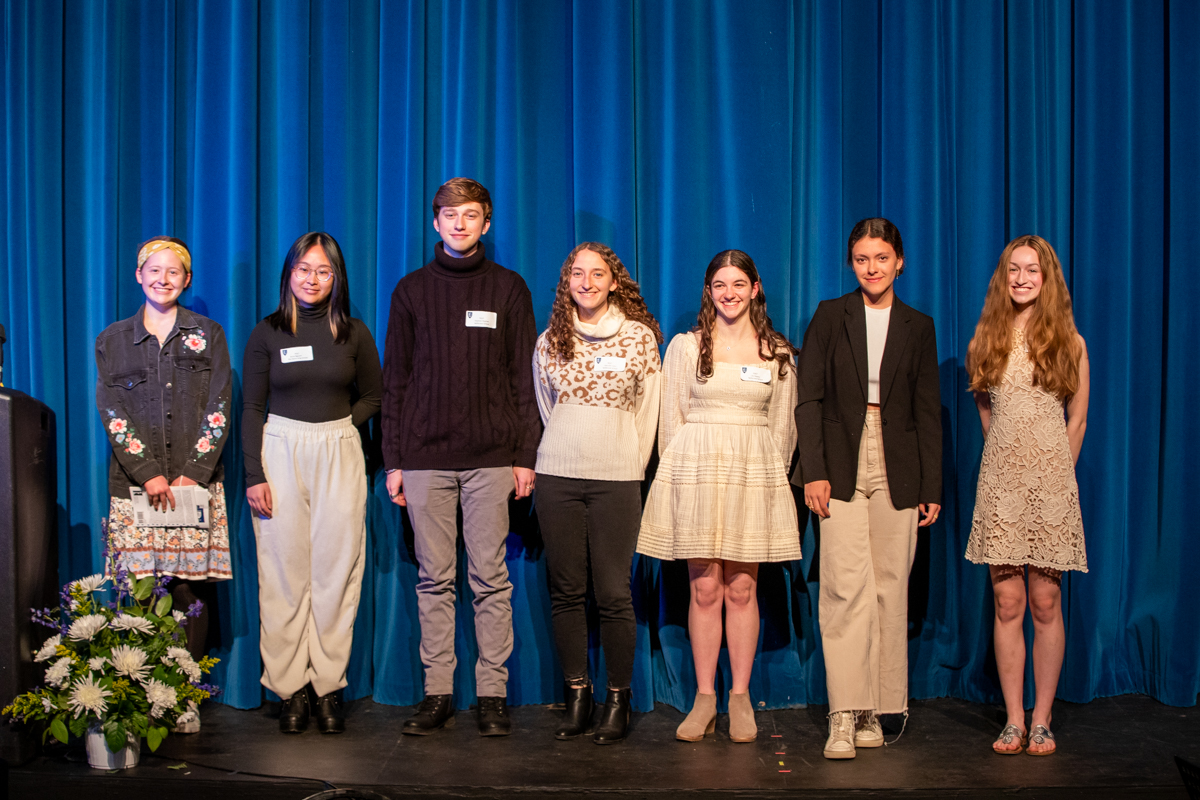 THE WINNING POETS & POEMS
Anna N. '22, The Storm King School: "Darling, run away with me"
Georgie C. , Frederick Gunn School: "Fake Pockets"
Lily S., Millbrook School: "Bubbies in the Kitchen after Danez Smith"
Mac M. '25, The Storm King School: "I Grew Up"
Kimora D. '22, The Storm King School: "Enough for You"  
Hannah C., Millbrook School: "my poem as a spider"
Stephen P., Millbrook School: "Нет войне" or "No to War"
Allison M., Portsmouth Abbey School: "memories & more."
Tia M., Westminster School: "Excerpt from the Diary I Could Never Write"
Anish M., Phillips Exeter Academy: "mother's day"
Alen M., Rye Country Day School: "If I Was Lonely"
Luke Chen A., Avon Old Farms: "Between the Lines"
Stella M., Rye Country Day School: "Stuffed with Stars"
Ava K., Kents Hill School: "Reaching the Elliptical"
Janessa White, Hamden Hall Country Day School: "10 Years Old"
Talya J., The Dalton School: "The first poem I wrote"
Fiona B., Greens Farms Academy: "Reverence"
Serdar Alexander K., Frederick Gunn School: "To Whom It May Concern"
Catherine H., The Dalton School: "Turtle Down"
Maria T. '25, The Storm King School: "Where I Am From"