With Storm King's growing fashion program in its second year, the bar was set high for students in Ms. Liggett's Fashion class this fall. That didn't stop six young designers, some who were learning to sew for the first time, from creating collections that reflected their own personal styles. According to Ms. Liggett, her students worked hard all semester and were more than ready to celebrate their accomplishments at SKS' much-awaited second annual fashion show. The event, called Gods and Goddesses of the Runway, took place on the evening of Thursday, December 5, 2019, in the Walter Reade Jr. Theatre.
To kick off the evening, Visual Arts Department Chair John Carruthers introduced the designers, Chengrui "Mary" Yan '22, Yiwen "Fiona" Ji '22, Lige "Fairy" Zhang '20, Shuaijiao "Susan" Pan '20, Alexandra "Scout" Zische '22, and Emily Elizabeth Kent '21. Emily Elizabeth, a second-year fashion student, is working on fashion as an independent study course this year and plans to pursue fashion in college and in her career.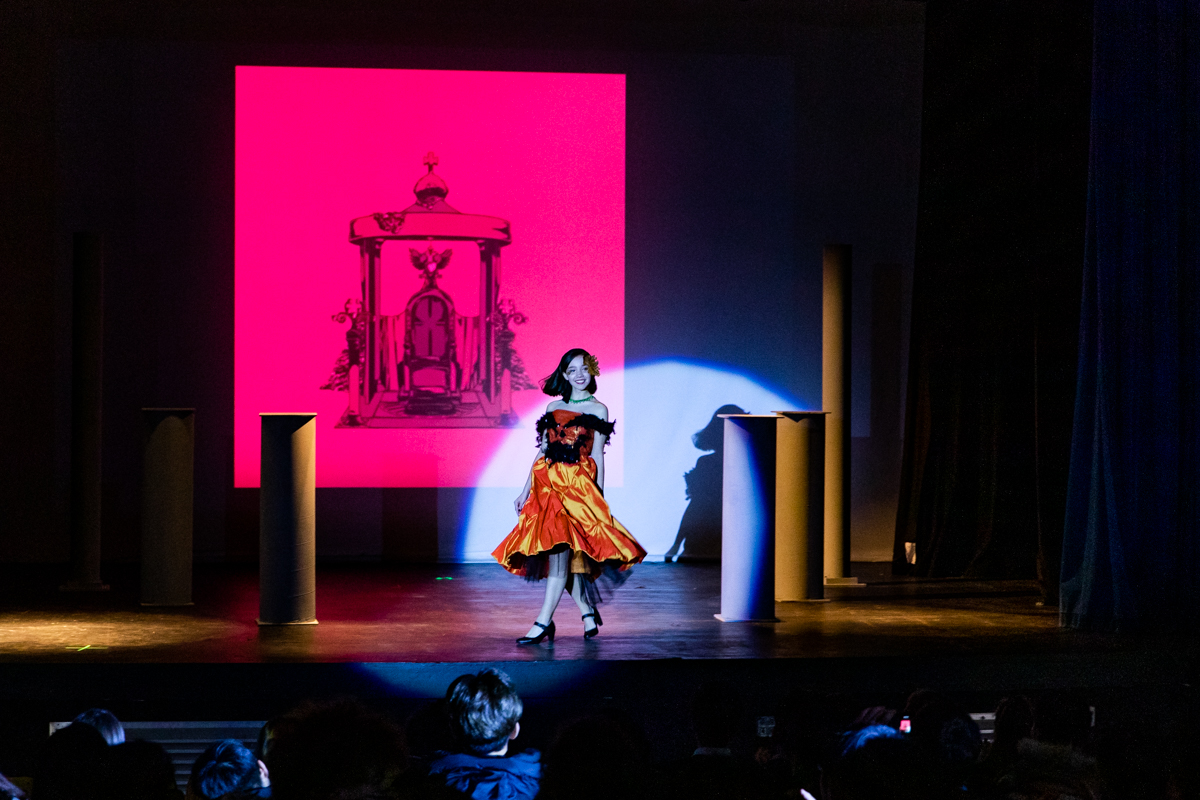 As the house lights dimmed and the music began, the theater was transformed into a runway with student-models strutting up and down the illuminated aisles and sashaying across the stage. Each model wore a different piece created by the designers including skirts, tops, pants, evening looks, and a show-stopping white wedding ensemble. To highlight each garment, the designers also created their own accessories such as hats, scarves, jewelry, and shoes and worked together with student-volunteer make-up and hairstylists to create cohesive looks.
To close the show, all the models along with the designers filled the stage as the audience applauded and cheered. During the question and answer session that followed, the students had the chance to talk with their peers about their experiences. Scout explained that she faced some challenges while cutting out her patterns while Emily Elizabeth found one garment very difficult to dye. When asked what inspired each of their pieces, Fiona explained that her favorite garment–the white wedding dress–was inspired by a movie she watched about iconic designer Coco Chanel.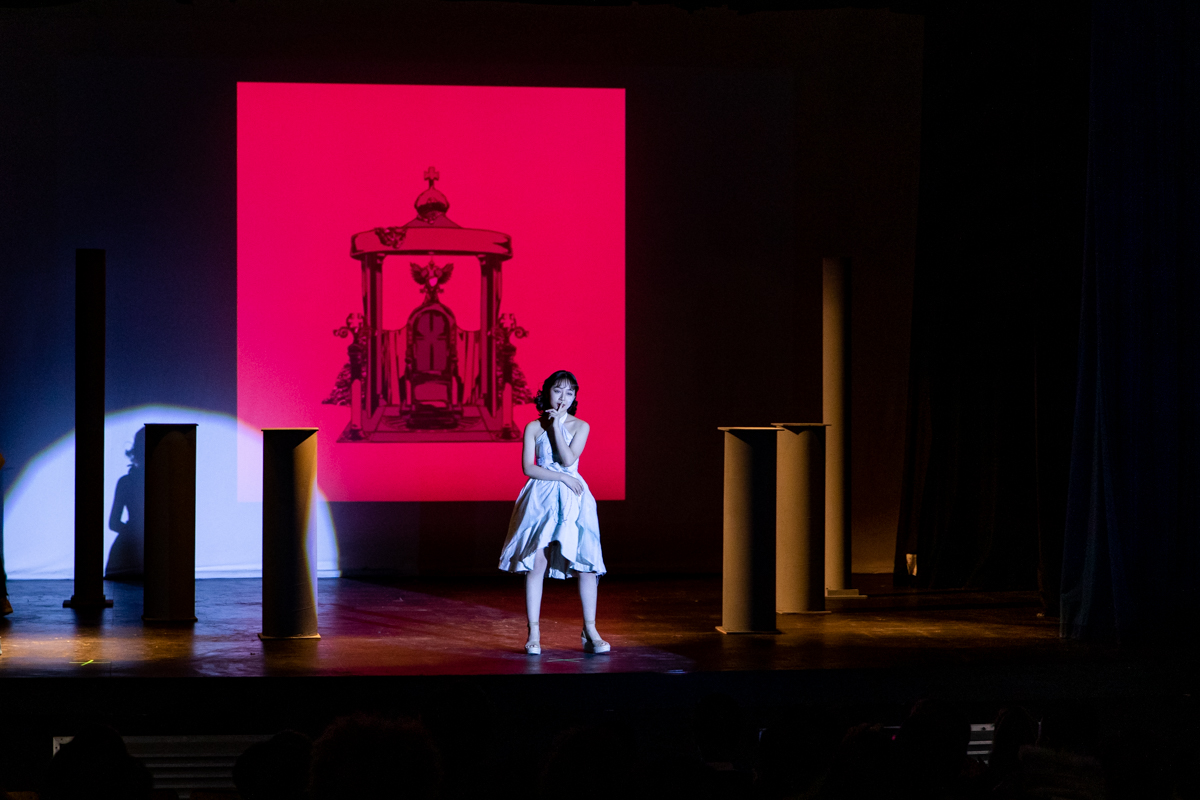 Storm King's Fashion program is designed to foster technical skills of sewing, pattern making, and the creative skills of drawing designs and fabric arts including printmaking on fabrics, and 3-D design. Throughout the semester, students complete a series of projects in response to complex design challenges, explore costuming, and take several field trips to New York City. The course also features a history of design with a special look at where the industry is headed in terms of sustainable fabrics and industrial processes. In addition, the course explores the fashion industry with a look at marketing and manufacturing. The fashion show brings an added dimension of designing, creating, producing, and marketing fashion in the real world.
"The designers have put a lot of time and patience into creating their collections- and many went above and beyond to create additional items," explained Ms. Liggett. "Many late nights in the Studio Center and questions driven by the students proved their dedication to the process and real-world experience making pieces to the deadline. We hope that with the student-designers' help, the fashion program at SKS can continue to grow for years to come. We look forward to next year's show!"
Congratulations to all the designers, volunteer models, and hair and make-up artists for putting on a fabulous fashion show under the guidance of Ms. Liggett. Many thanks also go out to the student production crew, ushers, and light and sound operators led by Mrs. Myers-Brown who worked hard to put the finishing touches on the show.