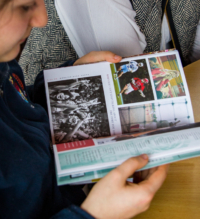 As our students conclude their fall semester, The Storm King School's Office of College Counseling is preparing to enter the New Year and already looking toward spring. "As we departed for our Winter Break, some of our seniors were still working on their college applications. I want students and families to know that our Office will be available to help during the holiday," explained Director of College Counseling Dr. Marti Kwon. "Our goal is to keep everyone on track and start again strong when we return in January, especially juniors and seniors."
"January will be an important month for both juniors and seniors. Many seniors will be finishing up applications and awaiting news. With juniors, we will be discussing their ideas about possible colleges and careers, and providing guidance on college tours, webinars, and other engagement opportunities offered by colleges and universities during the spring," continued Dr. Kwon.
Dr. Kwon is encouraging all students to get some needed rest over the break, but she also advises them to use their time wisely.  "Winter Break is a great time to take advantage of a number of SAT Prep options to get ready for upcoming tests.  While many colleges and universities have already announced their standardized testing requirements for the next admission cycle, many more have not.  It is important for students to keep all options on the table in terms of testing and have a plan that aligns with their goals.  I want to remind everyone that there are many online options. In addition, don't forget that all SKS students have access to a free self-paced prep course through their Naviance account.  The course includes review materials and test-taking strategies, as well as several practice tests," explained Dr. Kwon.
"It's been another challenging semester for all of our students, but I encourage everyone to keep up the good work, stay on track, and keep in close contact with me throughout the winter. I can't wait to return in January and see all the great schools our seniors are applying and gaining admission to," concluded Dr. Kwon. "Hearing their exciting news is the best part of my job!"