It was another amazing week for the Storm King Cougars on the court and field. On Saturday, 10/16, Spirit Week culminated on a positive note with both Girls Varsity Soccer and Girls Varsity Volleyball sporting outstanding performances at home versus EF Academy. The boys varsity soccer team followed suit on Wednesday, 10/20, at their match against Harvey School.
Boys Varsity Soccer
After their 10/16 home competition versus Millbrook was cancelled due to weather, the boys varsity soccer team faced Harvey School on Wednesday, 10/20. According to Coach Bennett the team shined yet again against a competent, disciplined soccer team: "We came out fast and aggressive and didn't stop fighting until the game was over.  Michael '23 was voted player of the game by the opposing coach for his tenacious defensive effort, and scoring our first goal off of a PK.  Rhyan '23 then scored the equalizer with 3 minutes left in the game to tie it up at 2-2.  The boys made SKS proud on Wednesday."
Stats:
Michael '23 – 1 goal
Rhyan '23 – 1 goal

Girls Varsity Soccer
On Saturday, 10/16, Girls Varsity Soccer showcased excellent performance and drive on their home field, ultimately dropping a very close contest with EF Academy 2-3. According to their coaches, the teams were well matched and kept a close score until the last few minutes of the game. Moving into the start of the academic week, Girls Varsity Soccer hit the field in their second  face-off against Oakwood Friends. Both teams played 9 v 9 throughout the match and ended the contest with a 6-0 win for Storm King. The Cougar's next match is at Harvey School on Saturday, 10/30.

Girls Varsity Volleyball
In the gymnasium, the girls volleyball team had an exciting match against EF Academy on Saturday, 10/16.  After losing to EF Academy the previous Wednesday 2-3, the Cougars came up with the win after a close 3-2 series of games.  SKS warmed up slowly, winning the first game 25-20, and dominated the second game winning 25-12.  The Cougars lost the third game 22-25 after numerous service errors, and then lost a nail-biter 4th game 26-28, forcing a 5th game showdown to 15 points.  SKS pulled out the win, 18-16, with lots of spectator support from both schools. The entire team of girls played in this match, further emphasizing how each and every player contributes to the overall success of our team. Highlights go to the team setters Linda '23 and Kimora '22 for great sets and great saves at the net, and for the powerhouse hitting of Team Captain Zoe '22. On Wednesday, 10/20, Girls Volleyball played away at Hoosac School, dropping a tough match 1-3 after a valiant effort.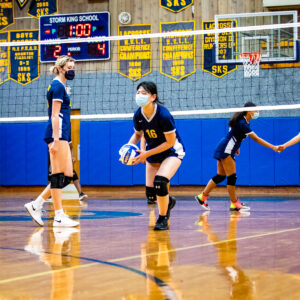 Next up for Storm King:
Girls Varsity Volleyball at SKS on Thursday, 10/21 against Oakwood Friends
Boys Soccer at SKS on Saturday, 10/ 23 against Forman
Girls Varsity Soccer on Saturday, 10/30 against Harvey
Boys Varsity Soccer at SKS on Saturday, 10/30 against Darrow