On Saturday, June 5, The Storm King School held its much-awaited 153th Commencement for the graduating Class of 2021. After a drive-through car parade replaced an in-person graduation the previous year, the live ceremony held on the lawn in front of the Stephen P. Duggan Bell Tower was welcomed by everyone in the school community.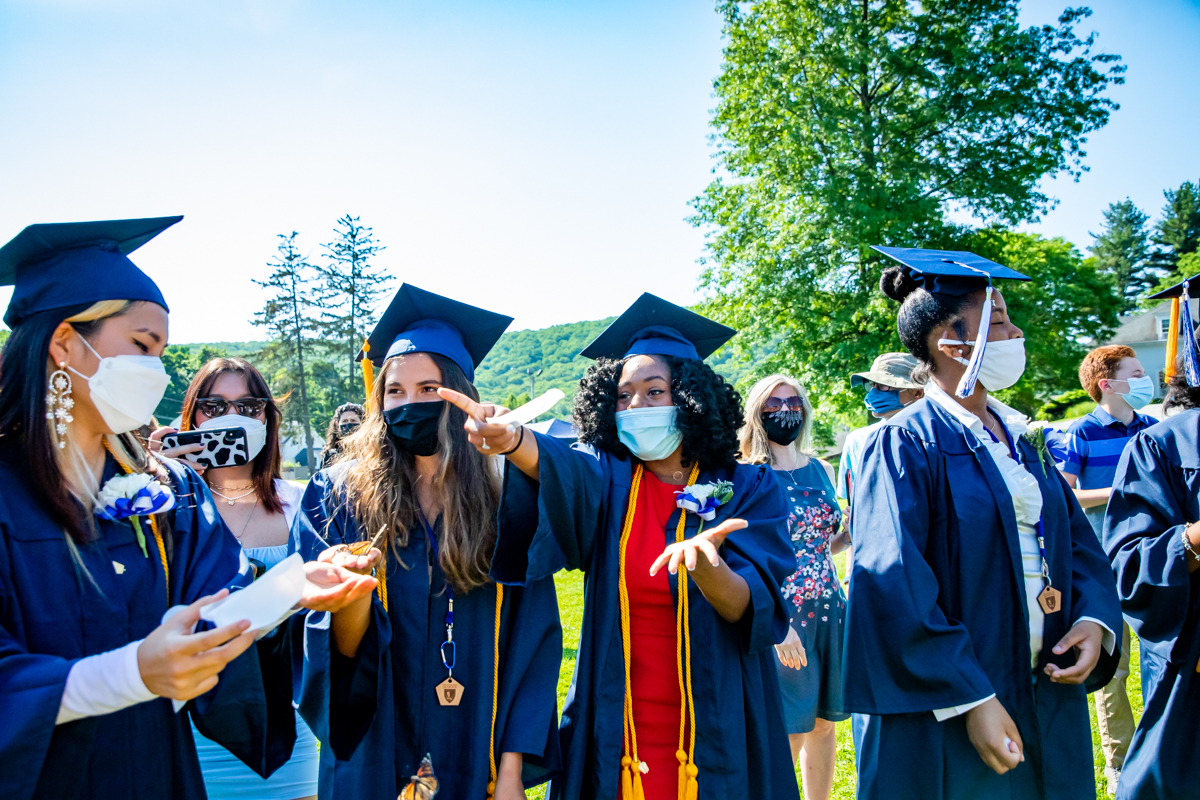 Speeches given by Head of School Jonathan Lamb and alumnus Charles Cordero, Class of 1992, highlighted the morning as 41 young men and women from 13 countries and 3 states were awarded their diplomas. It was the first hybrid graduation in the School's history with 23 members of the senior class attending the in-person ceremony, and 18 completing their year remotely.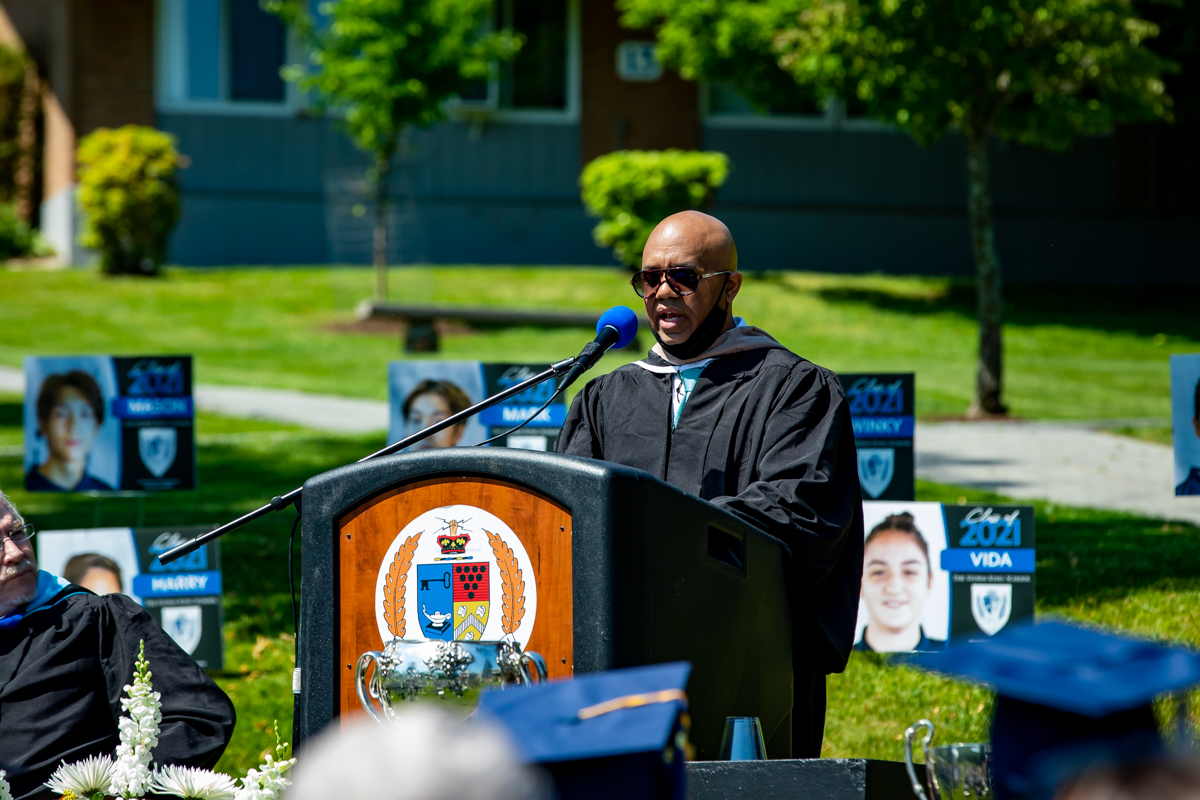 "It is wonderful to see a gathering of people, in person, on our campus," began Head of School Jonathan Lamb in his opening words. "Graduation is always an important event, but following all that everyone here and throughout the world has gone through during the past 15 months, it is even more significant."  Mr. Lamb went on to outline the accomplishments of the senior class, and praised them for their resilience, perseverance, and grit. "Much has been made of what we missed due to the pandemic. I believe it is well worthwhile to consider what we have gained, and for the seniors in particular, what you might have learned and what you will take with you. Our students, faculty, and families all made the global/hybrid experience of going to school work. Everyone can say 'we did it!'"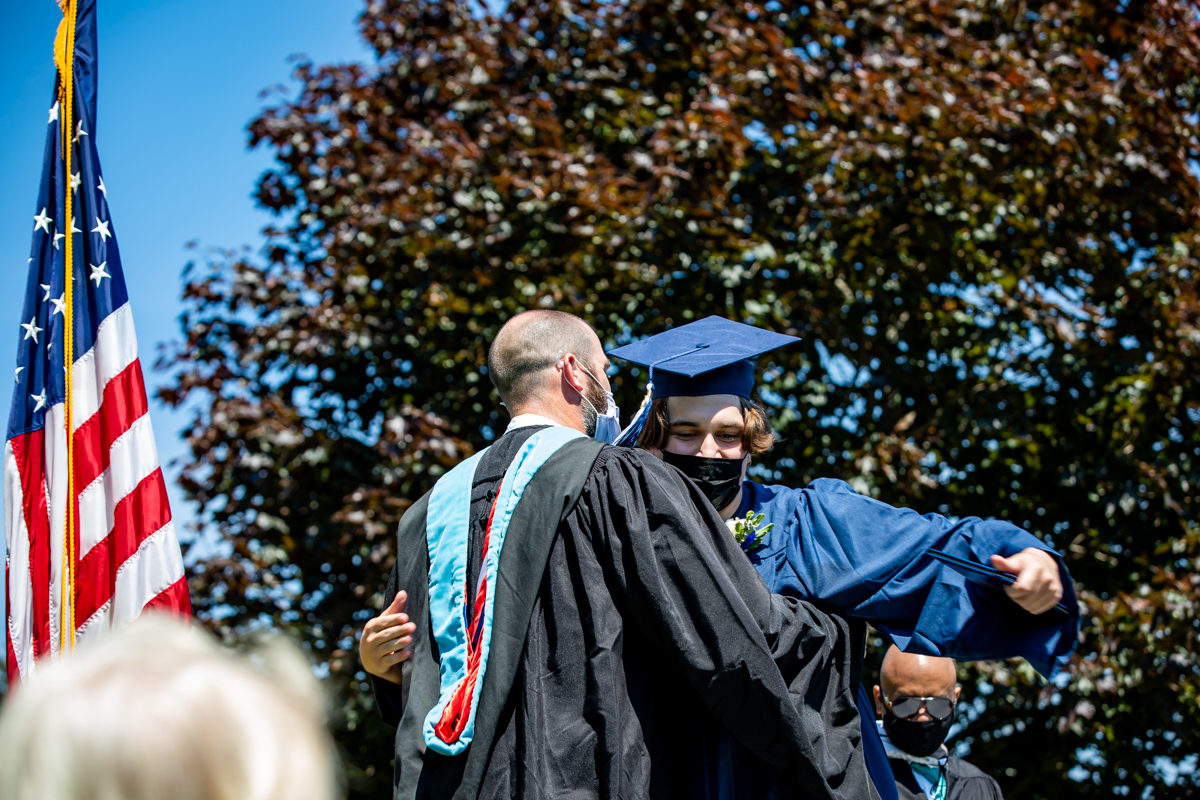 Members of the Class of 2021 have much to be proud of. With one of the School's best college acceptance rosters on record, many will pursue university studies across the globe from the US and Canada to Europe, Japan, and Hong Kong. Several have expressed interest in combining a business major with a globally-focused academic program such as international relations, foreign language, or environmental sustainability. Others have indicated they will study computer science, engineering, or a science discipline in preparation for medical school.  A few will pursue their passion in the fine arts and enroll in programs covering stage management, visual arts, or fashion design at some of the nation's most prestigious art schools.
Dias Aidossov
Astana, Kazakhstan
Purdue University
Sude Bakal
Antalya, Turkey
University of Toronto (Canada) *
Sofia Benoliel Nobrega
São Paulo, Brazil
University of Washington, Seattle *
Jianing Cai
Xi'an, China
Emerson College
Chon Kei Chan
Macau, China
Syracuse University
Chon Kuan Chan
Macau, China
University of Rochester
Romee Choi
Seoul, Republic of Korea
Northeastern University *   **
Crystal Edeoghon
Lagos, Nigeria
Niagara College (Canada)
Pearl Edeoghon
Lagos, Nigeria
Stevenson University *
Dominique Gooden
Montgomery, NY
University of Wisconsin, Madison *
Jedianne Graham
New York, NY
Howard University *
Emily Elizabeth Kent
Orlando, FL 
University of Hawaii, Manoa *
Ga Eun Kim
Hwaseong, Republic of Korea
California Institute of the Arts
Wonui Kim
Highland Mills, NY 
Pennsylvania State University, Harrisburg
Mingjian Lai
Shenzhen, China
Michigan State University
Shayla Lawrence
Wappingers Falls, NY 
Howard University *
Yuchen Liu
Shenzhen, China
Gonzaga Global University
Zhengyuan Liu
Wuhan,  China
University of Illinois, Urbana-Champaign
Miles Lucas
New York, NY 
George Washington University *
Kylie Marshall
Washingtonville, NY
SUNY University at Buffalo *
Olivia O'Blaney
Beacon, NY 
Fordham University *
Yu Ozaki
Yokohama, Japan
Sophia University (Japan)
Daniel Padron
Miami, FL
Purdue University
Justice Pessoa
New York, NY 
Clark Atlanta University
Mason Popowitz
Suffern, NY 
University of Hartford
Rawnak Rahman
Dhaka,  Bangladesh
School of Visual Arts
Yibu Shen
Shanghai,  China
Univerisity of California, Davis
Milana Shigapova
Yuzhno-Sakhalinsk,Russia
New York Institute of Technology
Jason Shrem
Cornwall on Hudson, NY 
Clark University
Timothy Selkridge
Bronx, NY
SUNY – University at Albany
Victoria Smart
Montgomery, NY
Ithaca College
Christopher Smith
Newburgh, NY
Alfred University
Rita Tesfay
Addis Ababa, Ethiopia
University of California, Santa Cruz *
Hoang Phan Quy Tran
Da Nang, Vietnam
Rensselaer Polytechnic Institute *   **
Thinh Tran
Hai Duong, Vietnam
University of Illinois, Urbana-Champaign *   **
Pep Viveros
Brooklyn, NY
Denison University
Vida Vojvodic
Belgrade, Serbia
The University of Belgrade (Serbia)
Jiaying Wang
Shenzhen, China
Waseda University
Junbo Wang
Wuhan, China
Pennsylvania State University, Harrisburg
Chengrong Yang
Xiamen,  China
University of California, Davis
Shanghong Yang
Foshan, China
University of California, Davis
* National Honor Society; ** Cum Laude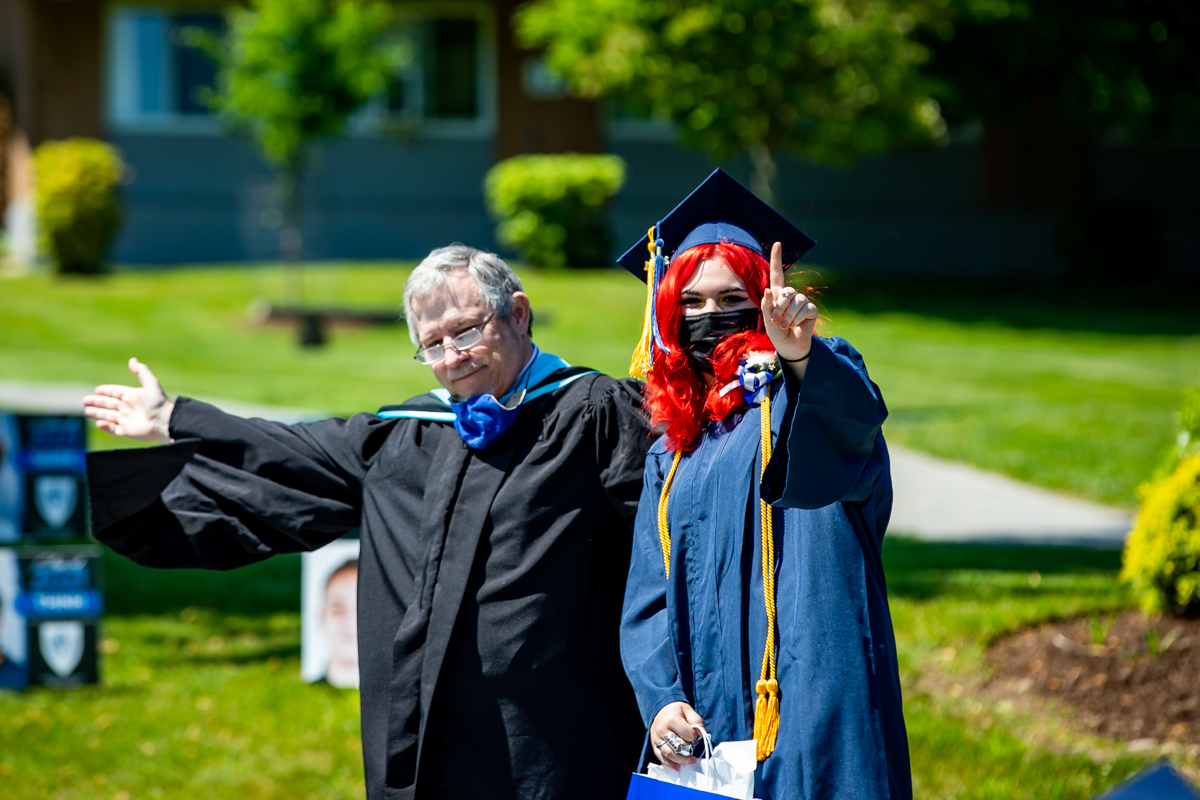 Alumnus and Alumni Council Member Charles Cordero '92 also offered inspiring words and advice to the new graduates: "Move slowly, and allow your hopes and dreams to manifest themselves. Be Present in all you do.  Be intentional with a purpose. Because every person is born to do something great; so do your job so great that the living, the dead, and the yet-to-be-born can do it no better."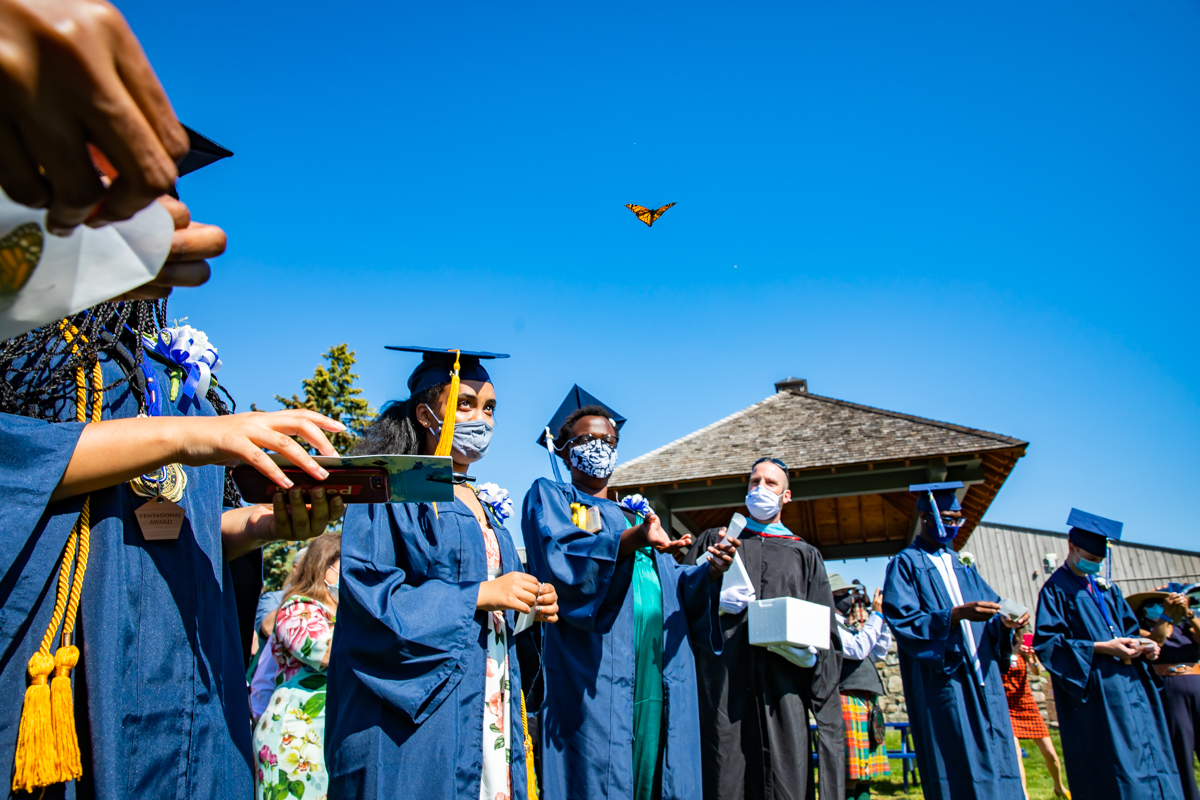 Other highlights of the ceremony included the presentation of the 2021 Commencement Awards by Dean of Academics Dr. Tim Lance, class promotions conducted by Mr. Lamb, followed by the presentation of diplomas to the senior class. As their names were announced, the smiling graduates crossed the stage to receive their diplomas and have their tassels flipped from right to left, officially completing their high school careers and concluding their lives on the Mountain. Following the ceremony, the graduates and their families gathered on the athletic field as per tradition to toss their caps and mingle with faculty members to say their farewells.
2021 Commencement Awards 
THE RILEY CUP
The Riley Cup is given in recognition of former Headmaster Philip Riley "to honor in perpetuity an outstanding member of the staff and an outstanding student who have contributed to the School's community ethos in practical and creative ways": Emily Elizabeth Kent '21 and Sharon Schoonmaker – 30-year staff member
STORM KING SCHOLARS
The Storm King Scholar Award is granted to those students who have consistently achieved at the highest academic levels and who have contributed significantly to other areas of campus life: Dias Aidossov '21, Romee Choi '21 and Kylie Marshall '21