While most of the school community departed for Spring Break earlier this month, a small and hard-working group of Storm King students interested in international affairs, politics, and economics, traveled to New York City to participate in the 2019 National High School Model United Nations Conference (NHSMUN).
The NHSMUN Conference took place at the United Nations General Assembly and the Midtown Hilton Hotel on Friday, March 1, through Monday, March 4. This is the second year the SKS Model UN Team participated in this prestigious conference, which included over 2,900 students from over 200 high schools around the world. The students' participation was the culmination of months of research and preparatory work and SKS was well-represented by students from all high school grades: Dominique Gooden '21, Sophia Grausso '20, Samantha McCullough '20, Alex Neighbors '22, Pierce Pramuka'20, Helen Shen '20, and Jessica Zheng '19.
This year, the Storm King Team was charged with representing Myanmar (Burma). SKS' Model UN Mentor Michael Hauser was very pleased with the team's performance. "The SKS team formed the delegation of a challenging country which is at the center of many global issues and controversies.  Among the issues they worked on were: explosive remnants of war, preserving endangered languages, combatting wildlife and forest crime, and addressing barriers facing minority groups in the workplace," he explained. "During the event, students developed resolutions to address global issues, built alliances, made speeches, and wrote working papers in controlled committee meetings that did not allow computers or phones.  Sessions went beyond 11:00 pm, but the Sunday night schedule included a delegate dance which was a welcome break for everyone," continued Mr. Hauser.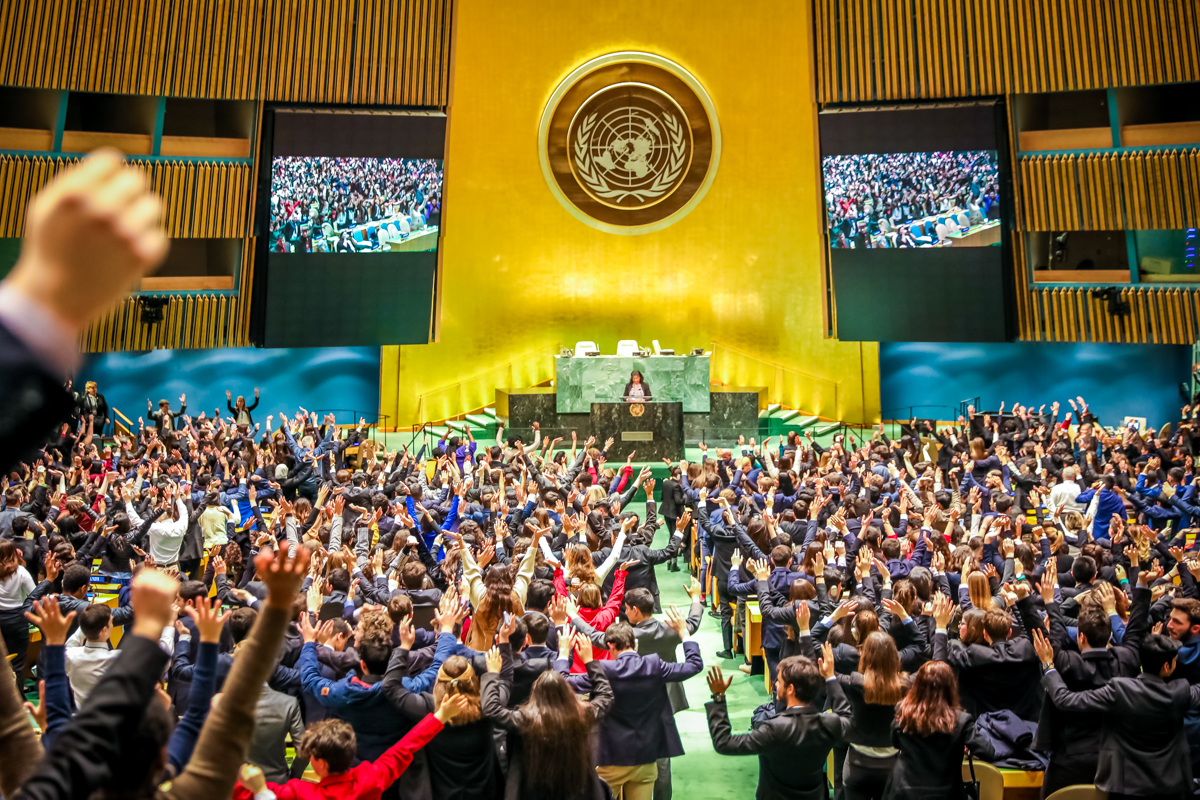 Junior Pierce Pramuka, a veteran Model UN team member, had great things to say about his experience at the Conference. "NHSMUN 2019 was amazing! We kicked off the conference on the floor of the UN General Assembly, where delegates from every nation on Earth meet and solve problems together. During committee, I worked with students from all over the world to try and tackle the issue of Non-State actors and Asymmetric Warfare in Africa. On the last day, we passed a comprehensive resolution. During closing ceremonies, Ambassador Susan Rice (former National Security Advisor and US Ambassador to the UN) gave the keynote speech. Model UN is an awesome experience that has given me the opportunity to expand my worldview and make friends from every corner of the globe," explained Pierce.
Freshman Alex Neighbors, who is the youngest member of the team, also shared his experience at the Conference: "I believe that this was a very educational experience that helped me learn a lot about the world. We met people from everywhere; from countries like Nigeria to places like Italy. We got to visit the UN–a once-in-a-lifetime experience. We all worked hard and did a lot of research, but it paid off," explained Alex.