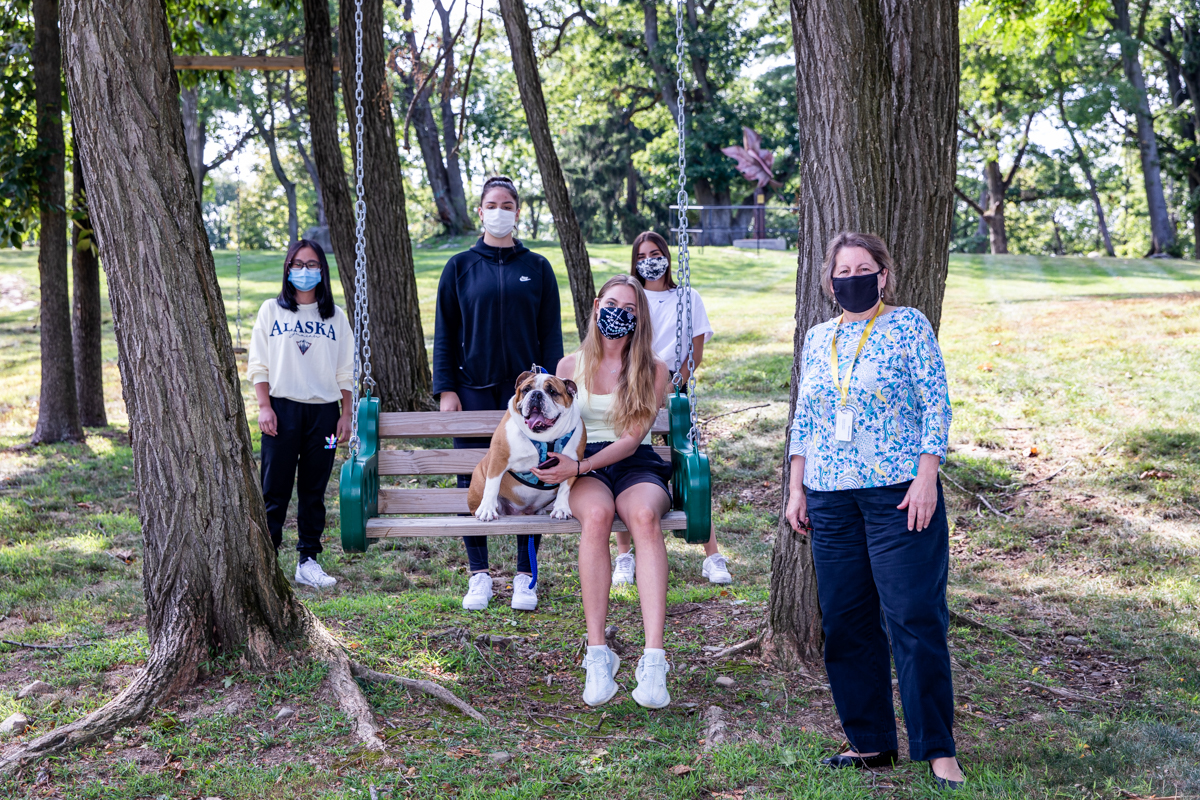 After an extended spring and summer hiatus, the campus of The Storm King School is showing signs of activity once again as it moves forward with its fall reopening plan. Faculty and staff began to arrive earlier this month, and now, the School has begun to welcome its new and returning students hailing from 23 nations this year.
This week, new international students from the United Kingdom, Canada, Mexico, Spain, Slovakia, Serbia, Vietnam, and South Korea arrived on campus and another group from countries including Japan, the Netherlands,  Albania, the Russian Federation, Ukraine, China, and Bangladesh among others are expected to arrive the week of August 31. Student arrivals have been staggered to accommodate testing for COVID-19, quarantine periods, and various online orientation activities. Once classes begin on September 14, the student body will have welcomed a total of 170 students including boarding students, day students, and our online learners from all over the world.
According to Storm King's Admissions Director Mr. Marek Pramuka, the School's enrollment is very strong again this year despite our world being turned upside down by the pandemic: "We will once again welcome an exceptional group of teenagers to our campus. Among them are winners of science Olympiads, published writers, athletes who represent their countries on junior national teams, budding artists, and young scholars who want to make a difference in the society of tomorrow," he explained.
"Due to social distancing regulations, our boarding capacity is smaller than last year. Thus, we are not able to house as many students as we had in the past few years," continued Mr. Pramuka. "However, when classes begin on September 14, we will welcome the largest group of day students in the School's history to our campus. We will also be serving a substantial number of online learners this fall. As global travel restrictions remain in place for much of the world, about half of our international students will begin their school year online until they are able to safely return to their 'home' here on the Mountain."
Mr. Pramuka is very pleased that despite the massive challenges, the School's enrollment remains strong. "This is a testament to the strong reputation our school enjoys both domestically and globally. We have amazing teachers here, and, as a result, our students get into great colleges. This is what attracts students to The Storm King School. Not even a global pandemic can change this," he explained.
During a normal school year, orientation features trips and activities geared toward immersing new international students in American history, culture, and fun. This year, the traditional trips to local historical sites, museums, amusement parks, and the nation's capital Washington, D.C. were replaced with a mixture of online activities, Zoom meetings, and socially-distanced outdoor activities in the local area that may include hiking, biking, and kayaking on the Hudson River.
Students will also use their time while in quarantine to learn about the new health protocols put in place over the summer to mitigate the spread of COVID-19 including cohorting, mask-wearing, hand washing, and social distancing.  Students who are studying online this fall will also participate in a series of virtual orientation activities that will introduce them to academics and student life at Storm King, as well as to their teachers and peers.
There are a lot of things students will have to do differently this year, and a lot of new things to learn for all of us in the school community.  Many thanks go out to the faculty and student RAs who are organizing year's orientation activities and helping our students get ready for another great school year, both on-campus and online!