As The Storm King School counts down to its 154th commencement, the community took a moment to celebrate our students' academic and athletic achievements. On Tuesday, May 24, 2022, parents, faculty, staff, and students came together in the Walter Reade Jr. Theatre for the 2022 Spring Academic Awards and Athletic Awards Ceremony.
In his opening words, Dean of Academics Dr. Timothy Lance explained that the Academic Awards, also called the "Book Awards," are designed to recognize specific students for their accomplishments in academics as well as visual and performing arts. "Each student we recognize tonight is committed to the active pursuit of excellence; each has developed habits and attitudes which will serve them well beyond today," said Dr. Lance.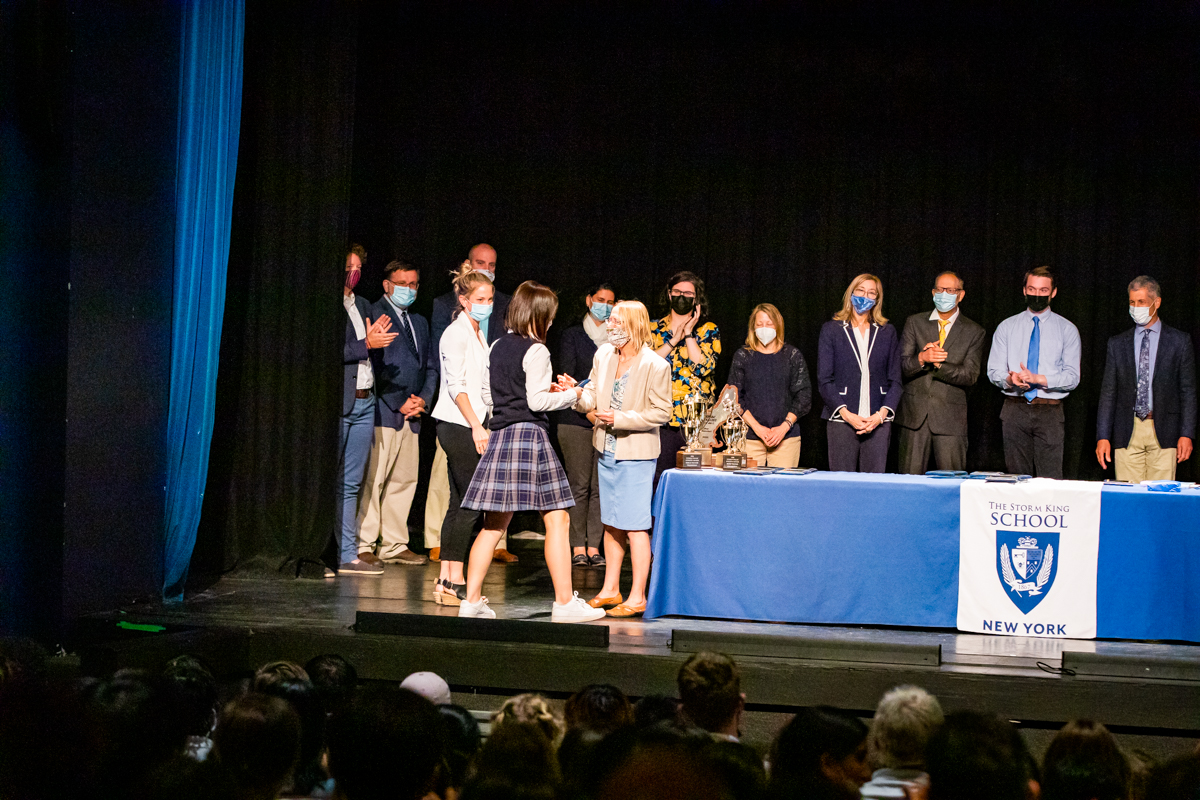 "Our faculty members, who have given many years to working with young people, celebrate this opportunity to lift up and emphasize the ideals of scholarship, creativity, perseverance, and character that are so important to our work and our school."
Following the Academic Awards, Athletic Director Dr. Nicole Cervantes came to the podium to announce the 2021-2022 Athletic Awards for each varsity and JV team, as well as this year's new additions of Outdoor Adventure, Fitness, and Leadership.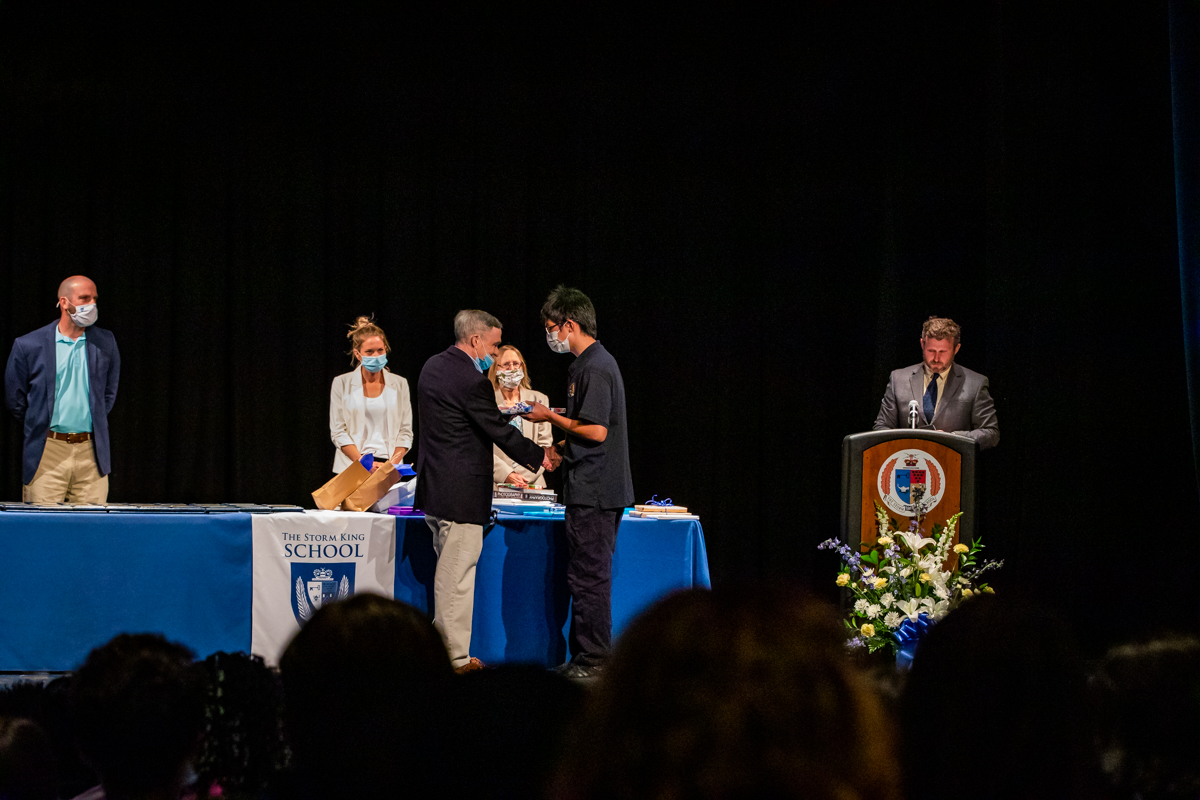 MVP Awards are given to players who show up every day and earned the respect of their teammates. The Coach's Awards recognize players whom the coaches can rely upon and deserve recognition for their hard work and commitment to their teams. "For the first time in nearly two years, Storm King Athletics was able to compete fully in three seasons for a total of 14 chances at a championship," explained Dr. Cervantes in her opening words. "Everyone did a fantastic job this year!"
Congratulations to all of this year's award winners. Many thanks go out to faculty, staff, and coaches for all of their efforts with our students this year.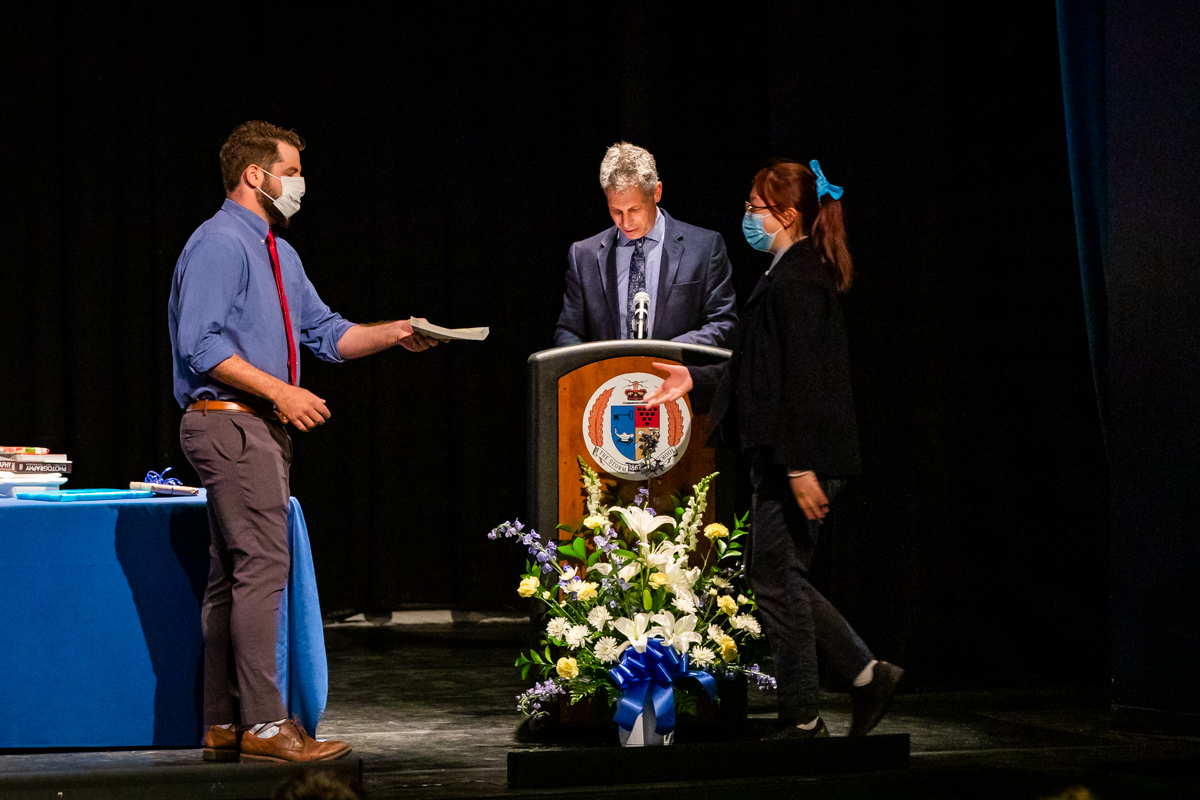 MATHEMATICS DEPARTMENT AWARDS
Algebra I: Minchae (Min) K. '25
Algebra II: Maddie D. '24
Geometry: Annie C. '23
ASP Geometry: Riley T. '24
Precalculus: Aleksandr N. '23
Precalculus: Ana Lucia M. '23
Calculus: Cristopher F. '23
AP Statistics: Thomas C. '23
Multivariable Calculus: Camilla S. '22
SCIENCE DEPARTMENT AWARDS
Middle School Science: Brianna B. '26
Freshman Physics: Charlotte T. '25
Health: Daniel Z. '25
Chemistry: Jasper L. '24
Biology: Dana X. '24
Physics: Mac M. '25
AP Biology: Edward I. '23
AP Physics: Lou H. '22
WORLD LANGUAGES DEPARTMENT AWARDS
Spanish II: Anna V. '22
Spanish IV: Jameer F. '24
ASL II: Layla G. '23
Advanced ASL: Maddy M. '22
ENGLISH DEPARTMENT AWARDS
Introduction to Literature: Christine S. '25
US Studies Literature: Annie C. '24
Creative Writing: Kenzo S. '23
Honors British Literature: Edward I. '23
Contemporary World Literature: Zoe B. '22
Contemporary World Literature: Anora M. '22
Science Fiction Fantasy & The Heroes' Journey: Camilla S. '22
ASP Upper English: Bryce F. '22
ASP Fundamentals of English II: Karena W. '22
VISUAL ARTS AWARDS
Global Studies Art: Andrea L. '25
Studio Art: Fernando M. '23
DigiArt: Mikey M. '22
Photography: Christine S. '25
Video Production: Dana X. '24
AP Art History: Charlotte J. '23
PERFORMING ARTS AWARDS
Acting: Zainab D. '22
Advanced Stagecraft: Madison B. '24
Dance: Emily R. '24
Music Theory: NaRae T. '24
Music Technology: Karena W. '22
Advanced Dance: Carly N. '22
Guitar: Cedric Z. '23
Bass: Thomas C. '23
Drums: Sota K. '24
Chorus/Voice: Zoe B. '22 
HISTORY & SOCIAL SCIENCES DEPARTMENT AWARDS
Middle School History: Jayde G. '26
Global Studies History: Charlotte T. '25
US Studies History: Jameer F. '24
Comparative Government: Cedric Z. '23
Economics: Personal Finance & Business: Cristopher F. '23
Psychology: Linn S. '23
Advanced Macroeconomics: Theresa G. '22
Advanced Psychology: Thomas C. '23
ESL DEPARTMENT AWARDS
ESL Global Studies History: Daniel Z. '25
ESL I Literature & Writing: Yanshu H. '25
ESL II Intermediate Conversation: Seongjae L. '24
ESL II Intermediate/Advanced Conversation: Peichen G. '23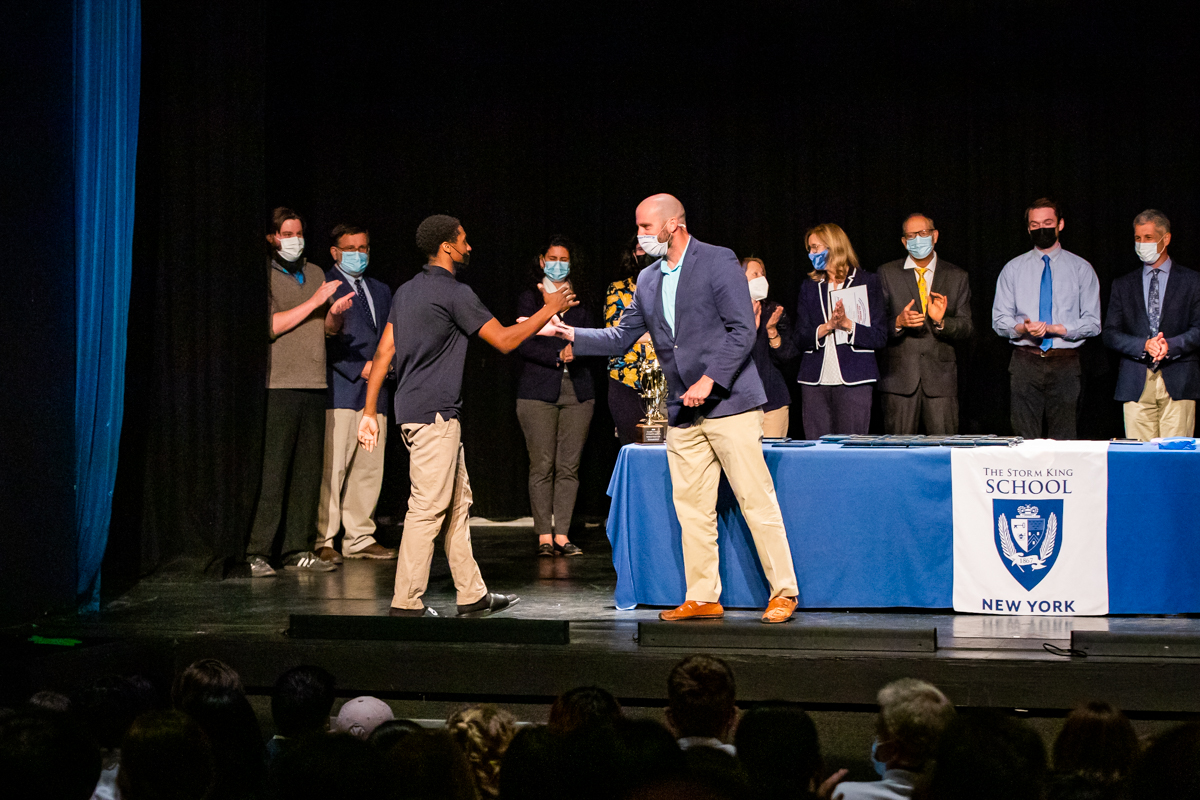 2021-2022 ATHLETIC AWARDS
Boys Varsity Cross Country
Most Valuable Player: Edward I. '23
Coaches Award: Lou H. '22
Girls Varsity Cross Country
Most Valuable Player: Marisa C. '24
Coaches Award: Maria T. '22
Girls Varsity Volleyball
Most Valuable Player: Zoe B. '22
Coaches Award: Kimora D. '22
JV Volleyball
Most Valuable Player: Valeria C. '25
Coaches Award: Christine S. '25
Boys Varsity Soccer
Most Valuable Player: Michael S. '23
Coaches Award: Seongjae L. '24
Boys JV Soccer
Most Valuable Player: Anthony L. '24
Coaches Award: Christopher F. '23
Girls Varsity Soccer
Most Valuable Player: Maddie M. '22
Coaches Award: Elena C. '23
Fall Co-Ed Fitness
Most Valuable Player: Trey L. '22
Coaches Award: NaRae T. '24
Fall Co-Ed Recreational Tennis
Most Valuable Player: Tyson C. '24
Coaches Award: Charlotte T. '25
Fall Co-Ed Outdoor Adventure
Most Valuable Player: Elizabeth D. '22
Coaches Award: Nyla A. 25
Boys Varsity Basketball
Most Valuable Player: Richard "RJ" D. '22
Coaches Award: Tyson C. '24
Girls Varsity Basketball
Most Valuable Player: Madison C. '22
Coaches Award: Aleena S. '23
Boys JV Basketball
Most Valuable Player: Lancas L. '24
Coaches Award: Max C. '23
Girls JV Basketball
Most Valuable Player: Anna N. '22
Coaches Award: NaRae T. '24
Co-Ed Wrestling
Most Valuable Player: Michael H. '22
Coaches Award: Cedric Z. '23
Winter Co-Ed Fitness
Most Valuable Player: Mr. Prunzion
Coaches Award: Jack G. '23
Co-Ed Fencing
Most Valuable Player: Ishmael B. '23
Coaches Award: Ben L. '22
Leadership
Most Valuable Player: Maria T. '25
Coaches Award: Mikey M. '22
Boys Varsity Lacrosse
Most Valuable Player: Boris T. '25
Coaches Award: Daniel Z. '25
Girls Varsity Lacrosse
Most Valuable Player: Anora M. '22
Coaches Award: Nicole T. '24
Boys Varsity Tennis
Most Valuable Player: Hugo L. '23
The Coaches Award: Ben L. '22
Girls Varsity Tennis
Most Valuable Player: Brianna B. '26
Coaches Award: Jianglan L. '22
Co-Ed Ultimate Frisbee
Most Valuable Player: Lou H. '22
Coaches Award: Anna N. '22
Baseball
Most Valuable Player: Jack M. '23
Coaches Award: Seongjae L. '24
Spring Outdoor Adventure
Most Valuable Player: Annie C. '24
Coaches Award: Anna V. '22
Spring Co-Ed Fitness
Most Valuable Player: Christopher F. '23
Coaches Award: Maria T. '22
Senior Athlete of the Year:  Lou H. '22