Now Accepting Applications

for the July 27 – August 8, 2020
The SKS Fashion Design Workshop is on!
After careful consideration we have determined that this program can be conducted while comfortably adhering to NYS health and safety guidelines. Participants will have almost all equipment personally dedicated, including sewing machines. We've developed sanitizing procedures for any shared items or surfaces. The workshop is spacious, and participants will be placed 6 feet apart. However, due to these restrictions spaces are very limited. Read more, and register below!
Learn the essential skills and techniques to design, alter, and create clothing!
Through this experiential workshop you will gain insight and appreciation for the world of fashion, and begin to understand clothing by the quality of it's design and construction. You will learn and practice a set of comprehensive skills during the course of two weeks that will culminate with a mini runway show featuring your work! You can use the skills you acquire throughout your life to evaluate clothing for its design and construction, and become a trend setter by creating your own style and fashion!
SKS Summer Workshop is for boys & girls ages 12 – 16
Workshop hours: 10 AM – 4 PM
Spaces are limited! Sign up soon!
Essential skills and techniques to design, alter, and create clothing! Gain insight to appreciate everyday, designer, and contour clothing, for their construction, design, and comfort. Acquire skills that you can use throughout your life!
Hand Sewing

Machine Sewing

Types of Fibers/ Fabrics

Material Perpetration

Measuring

Draping

Dressing Mannequins

Drawing Fashion Illustration & Mood Boards

Executing a Runway Show
Projects include hand-sewn name tags, pillows, drawstring bags, fashion illustrations, mood boards, and a complete men's or women's outfit. The two weeks will culminate with a mini runway show at the end of the workshop!
Spaces are limited,

Sign up today!
Tuition
All Materials for Personal Use to Ensure Health & Safety
Health & Safety Sanitizing Procedures for Shared Spaces
Group & Individualized Instruction
WiFi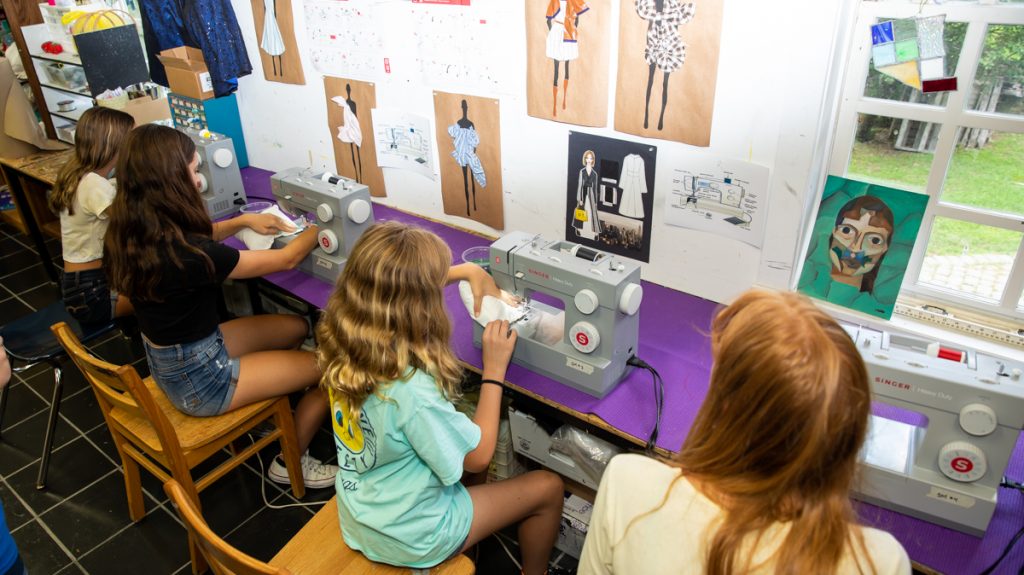 Read all about our successful inaugural 2019 workshop: