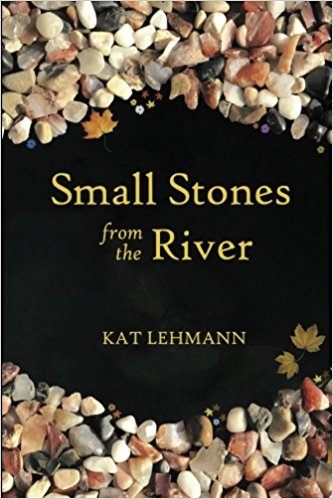 SMALL STONES FROM THE RIVER
(Comments from Amazon listing)
"Profound and inspiring...One of the best poetry collections I've read in a long time." ★★★★★
The book contains 180 original, contemporary haiku, tanka, and poetic prose entries about empowering the inner self, with breathing room for a mindful unfolding of the words or the reader's personal response. The entries resonate and build to create an extended meditation on love, healing after loss, forgiveness, happiness, hope, wonder, and simple abundance. SMALL STONES FROM THE RIVER is a companion for journaling or journeying. "The door that opens is within yourself."
"Kat Lehmann's original poetry shows an advanced understanding of the human condition." -The Rebecca Review (Vine Voice) ★★★★★
The book's spiritual reflections arose from the author's soul journey, as if she were gathering special stones along life's river. After polishing and reflecting on each precious offering, she found that even a small stone can hold a mountain within it.
2017 Wishing Shelf Independent Book Awards Finalist 
We will use this book at the start of and throughout the year to prompt writing and thinking.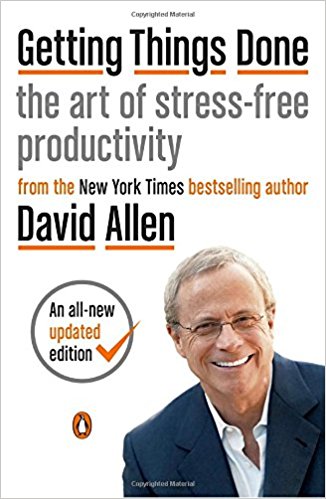 GETTING THINGS DONE
"The Bible of business and personal productivity" —Lifehack
"A completely revised and updated edition of the blockbuster bestseller from 'the personal productivity guru'"—Fast Company
Since it was first published almost fifteen years ago, David Allen's Getting Things Done has become one of the most influential business books of its era, and the ultimate book on personal organization. "GTD" is now shorthand for an entire way of approaching professional and personal tasks, and has spawned an entire culture of websites, organizational tools, seminars, and offshoots.
Allen has rewritten the book from start to finish, tweaking his classic text with important perspectives on the new workplace, and adding material that will make the book fresh and relevant for years to come. This new edition of Getting Things Done will be welcomed not only by its hundreds of thousands of existing fans but also by a whole new generation eager to adopt its proven principles.
Getting Things Done will be used in all that we do to help each of us accomplish the things we need to in order to maximize our ability to fully enjoy and embrace what we most want to do.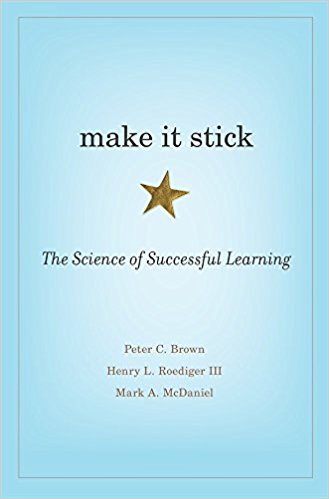 MAKE IT STICK
If you want to read a lively and engaging book on the science of learning, this is a must… Make It Stick benefits greatly from its use of stories about people who have achieved mastery of complex knowledge and skills. Over the course of the book, the authors weave together stories from an array of learners―surgeons, pilots, gardeners, and school and university students―to illustrate their arguments about how successful learning takes place… This is a rich and resonant book and a pleasurable read that will leave you pondering the processes through which you, and your students, acquire new knowledge and skills. (Hazel Christie Times Higher Education)
Many educators are interested in making use of recent findings about the human brain and how we learn… Make It Stick [is] the single best work I have encountered on the subject. Anyone with an interest in teaching or learning will benefit from reading this book, which not only presents thoroughly grounded research but does so in an eminently readable way that is accessible even to students. (James M. Lang Chronicle of Higher Education)
Presents a compelling case for why we are attracted to the wrong strategies for learning and teaching―and what we can do to remedy our approaches… In clear language, Make It Stick explains the science underlying how people learn. But the authors don't simply recite the research; they show readers how it is applied in real-life learning scenarios, with engaging stories of real people in academic, professional, and sports environments… The learning strategies proposed in this book can be implemented immediately, at no cost, and to great effect… Make It Stick will help you become a much more productive learner. (Stephanie Castellano TD Magazine)