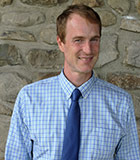 From the Dean of Faculty, Mr. Freeman
Why the Podcast?
I had the idea a while back to record and interview teachers here at SKS as a way of sharing ideas and sparking some conversation about teaching and the clever and unique ways we practice our Art. Days slip away so quickly living on the boarding school schedule and while we work together, it never feels like there is enough time to talk with each other in depth about the work we do and what motivates us to do it. Also just talking about teaching and ideas related to teaching helps sustain the flow of inspiration so critical to good teaching. No two teachers are the same and I want to celebrate the individualism and free thinking we encourage among the faculty here at Storm King.
The Podcast format seemed like format  to build community, to promote reflective conversation, and to help the faculty and greater community get to know each other better. After searching through several Youtube videos and Mac discussion boards, I figured out how to do some basic recording and editing, but I have a long way to go when it comes to the fine tuning. If you are a recording aficionado, I hope I do not offend your ears. Nonetheless I believe the listener might be rewarded with some insights into who teaches here and the effort they put into helping educate our students. Enjoy!