New York English Immersion Experience
Register by May 1st and receive 10% off!
Session I: July 1 - July 21
Session II: July 22 - August 4
Week by Week Itinerary Coming Soon
"Did you think in English today?"
Each student will constantly practice speaking, listening, reading and writing in English. Students spend an average of three hours each day in the classroom working on assignments and preparing for excursions. Afternoons offer enrichment activities that further enhance student learning. Evenings focus on projects, group work, studying and entertainment. Our program features:
Experience Based Thematic Weeks

Multiple New York Excursions

Language Development (Written & Verbal)

Scenic Mountain Setting Surrounded by Forest Preserve


Afternoon / Evening Enrichment Activities

Linguistic Games & Class discussion

One Hour From NYC / Two Hours from the Capital Region

Small Classes / Individualized Attention & Instruction

Journal Writing (Connects Classroom & Real World Experiences)

Weekly Presentations Pertaining to Themes

"I study English at school, but we don't ever do presentations, so I got to practice my English but also learned how to do presentations." - Mateo Rivas, Columbia (2017)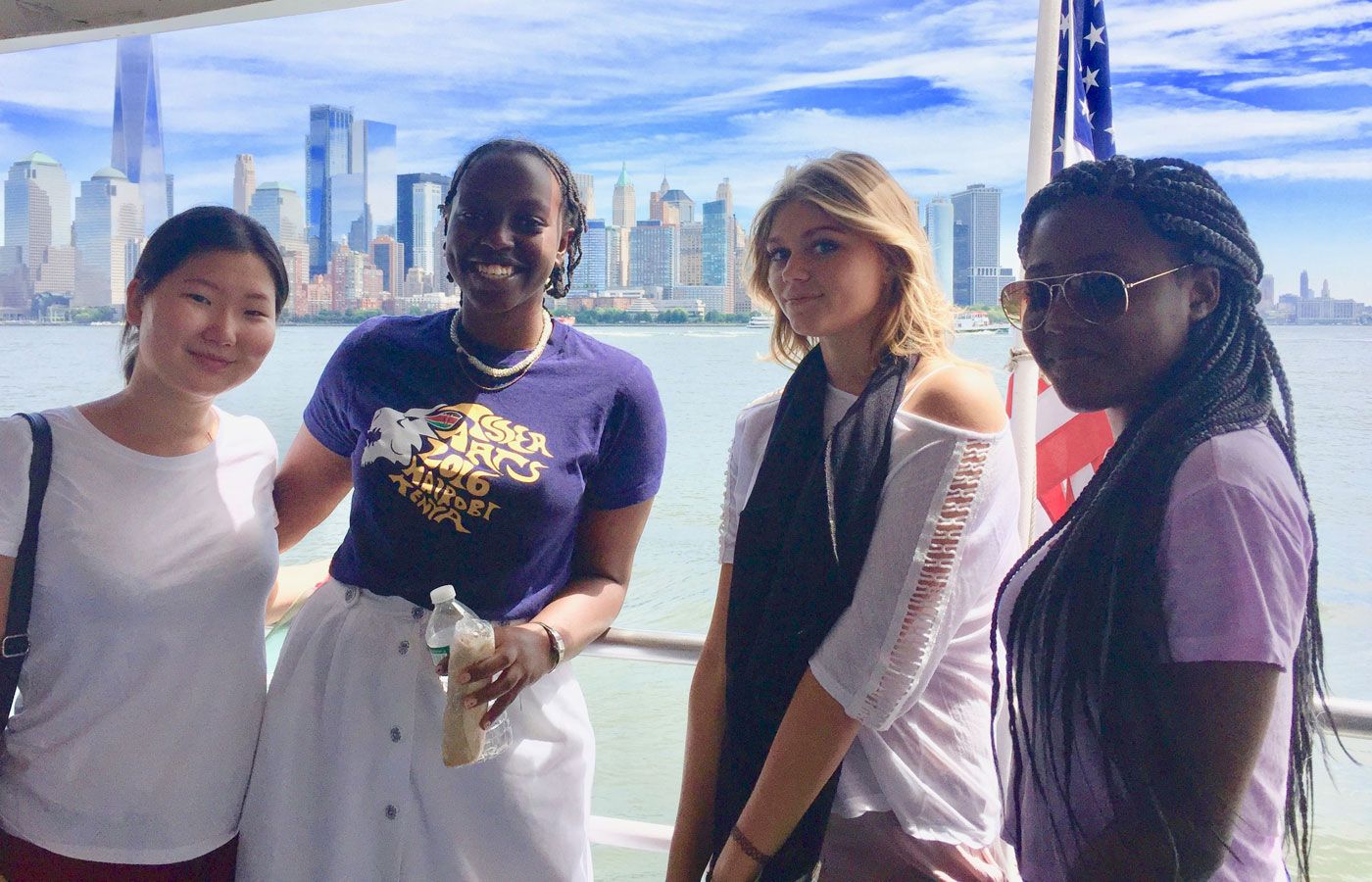 "First I think in Storm King School we speak and write English every day, and we don't have play time, but it is error. The Storm King School is so fun." - Angela Chen, China (2017)
Sample Daily Schedule
7:30-8:30         Breakfast
10:00-10:30    Morning Break
10:30-12:00    Class
12:00-1:30      Lunch / Break
1:30-3:30        Local Excursions / Group Work
3:30-4:00        Break
4:00-6:00        Recreation / Sports / Fun
6:00-7:00        Dinner
7:00-8:30        Study Hall / Group Projects
8:30-10:00      Free Time
10:30              Lights Out
One of America's Top Boarding Schools
The Storm King School, established in 1867, is an independent college preparatory boarding school for students in grades 8 through 12. Our scenic campus is located 55 miles north of New York City on the crest of the majestic Storm King Mountain overlooking the Hudson River and surrounded by thousands of acres of protected forestland.  
Classes take place in our newly renovated, modern, air-conditioned Ogden Hall and healthy, delicious meals and snacks are served in beautiful Henderson Dining Hall.
Students live in double dormitory rooms with shared bathrooms. Laundry is available in all the dorms at no charge. The entire campus is Wi-Fi accessible.
Enrichment Activities
Afternoon activities include access to our fitness center (weight lifting and cardio rooms), as well as soccer, tennis, basketball, volleyball, baseball, badminton, and lacrosse equipment.
Swimming is available at a local swimming pool. Hiking trips in Black Rock Forest, Storm King State Park, Bear Mountain State Park and various locations throughout the beautiful Hudson Valley will also be made available.
Additional afternoon and evening excursions include professional sporting events, kayaking, theater trips, shopping, museums, concerts, and festivals.
(Many excursions are carefully curated to correspond with classroom content. A full itinerary of off campus trips will be made available soon)
Student

Visa
Students attending ESL Summer Immersion Program may enter the U.S. with a B-2 visitor visa with the annotation: "Study incidental to visit – Form I-20 not required." SKS will issue an I-20 to students who are enrolled as a full-time student in the Fall. Students may then use the I-20 to apply for an F-1 student visa.
Health and Safety
All students are covered by a comprehensive health insurance plan. The on-campus health office provides basic medical care. All other health needs are provided through local health care providers. 24-hour security personnel ensure a safe living and learning environment.
Transportation
Free airport shuttles will be provided to & from JFK and Newark International Airports on July 1, 22, and August 4 between 8:00 AM and 6:00 PM.  A fee of $250 will be charged for airport transportation outside these dates & times.
Tuition & Fees
$4,500 per Session, or $8,400 for both.
Weekly Option: $2,000 per Week

Non-refundable application fee: $100
$500 enrollment deposit upon acceptance
Balance due by April 15, 2018 (or immediately upon acceptance thereafter
Register by May 1st, receive 10% off!
Please contact us if you have any questions