David Hasbrouck Van Dyck '40
Alumnus & Past Faculty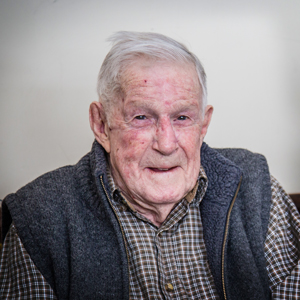 David Hasbrouck Van Dyck '40
December 25, 2017
David Hasbrouck Van Dyck, 94 of West Hartford and Bolton Landing, New York, died peacefully on Christmas morning 2017.
Mr. Van Dyck graduated in 1940 and returned to SKS as a beloved history and math teacher, coach, and dorm parent from 1947-1959. In 2015, at his 75th Class Reunion, Mr. Van Dyck received the coveted Margaret Clark Faculty Excellence Award.
While at SKS, David accomplished the feat of earning a letter on every one of the five teams he has played: Football, Soccer, Basketball, Baseball, and as Captain of the Track Team.  "Pint-sized, his prowess on the track has been a source of constant amazement to those who have watched his effortless performance in the mile, his specialty" (The Quarry 1940).  Scholastically,  he also achieved a high place among his peers by graduating Cum Laude. 
The last of eight siblings, he leaves behind his wife of 69 years, Margaret "Peggy" Van Dyck, two daughters, Louise Van Dyck Shipway of Avon and Emily Van Dyck Frederick of Glastonbury, and three grandchildren, Claire Guild Frederick, James Bevier Frederick and David Emmet Shipway.
David was born in Schenectady, New York. After graduating from Storm King School in Cornwall, New York, he enrolled in Union College until World War II intervened. He served on a destroyer in the U.S. Navy in the South Pacific, including battles at Leyte Gulf and Iwo Jima. After the war, he resumed his education at Union, graduating with honors in English and Economics in 1947. He then began a life-long career as a secondary school teacher and coach, at The Storm King School from 1947 to 1959, and at Kingswood Oxford School from 1959 until his retirement in 1988. David's acerbic wit and encyclopedic knowledge of American and European history inspired generations of students.
Mr. Van Dyck was mentioned in our Fall 2015 publication of On The Mountain. To read it click here . . .
To Watch an interview with Mr. Van Dyck on his years at The Storm King School please click here . . . 
John H. Coulter Jr. '51 of Oneida, FL, died February 1, 2017, at the age of 83. John was at SKS for two years. His senior write-up said that he had given much to the School both athletically and scholastically. He played on the varsity football team, was an asset to the hockey team, and played second-team baseball. He was a member of the Dramatics Club  and Glee Club, and he served on the Quarry's
board. He was one of the first seniors in his class to be accepted to college and selected to attend Pennsylvania Military College. On the Mountain, he was noted for being friendly and generous and having a good sense of fun (like removing the tires from a certain Headmaster's car).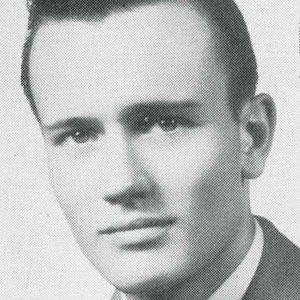 Kinsley "Kim" Woods '55
December 27, 1988
Kinsley "Kim" Wood '55 died December 27, 1988, at the age of 52. We discovered this when his SKS roommate, Robert Chen '55, asked about him earlier this year. We wrote to his son, Kinsley Jr., and here's what we learned about him:
Kinsley Sr. grew up in Oneida, NY, where he rebuilt cars and did what teenagers in that era did. He went to St. Lawrence and Alabama, obtaining a degree later in life when the Air Force was requiring all enlistees to have one. He served in the Air Force in Vietnam as a bird dog in what he called the "second most dangerous mission" there. He was required to fly a very visible, single-engine propeller plane (0-2 and 0-10) over the treetops to fire smokers (small signal bombs) to tell the bombers where they could bomb. He was so low that ground troops could possibly shoot him down, hence the danger.
Leaving the Air Force, he flew for Pan Am for many years and part-time for the New York Air National Guard (NYANG) in Syracuse, NY. He would fly fighter jets there, the A-10 mostly, becoming a full colonel and leading the Guard unit to be the top unit in the country (the first Guard unit deployed after the Air Force). At the time of his death, the process had been started to make him a general to continue leading the NYANG. He loved Skaneateles and being on his boat. We skied together, went to concerts, and played guitar, and he did everything he could for his children.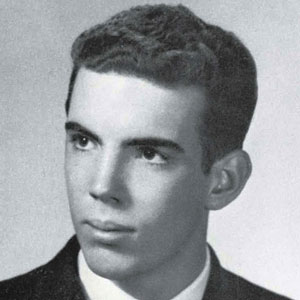 Bob Bowman '59
November 9, 2016 
Bob Bowman '59 of Holualoa, HI, died November 9, 2016, at Kona Community Hospital with his wife of 26 years, Coral, at his side. Born and raised in Tenafly, NJ, after attending Rutgers University, Bob moved to the Los Angeles area. He married Jane Lovell, and during the next 15 years, they carved redwood signs, owned residential real estate, and rode motorcycles. After moving to Eugene, OR, Bob met Coral at the Oregon Country Fair. They traveled to Mexico, Canada, Bali, Singapore, Nepal, India, Hong Kong, and Tibet and started a small charitable nonprofit, the Anicca Foundation. In 1992, they trekked the Annapurna Circuit in Nepal; in 1996 they circumambulated Mt. Kailash in western Tibet; and in 1999, they married. In 2000, after Coral retired from teaching at the University of Oregon, they bought a house in Holualoa and traveled to Tanzania, Italy, Austria, the Czech Republic, and Germany. Bob learned to dive in Kailua-Kona, served on the board at Daifukuji Soto Zen Mission, and practiced Tai Chi. Bob, loved by many, will be remembered for his generosity.
Patrick Joseph Buckley '62
Patrick Joseph Buckley
February 3, 2017
Patrick Joseph Buckley '62 passed away February 3, 2017, at White Plains Hospital after a prolonged battle with cancer. He left this world surrounded by family, friends, and the music he loved. Born in the Bronx, NY, in 1943, he was the oldest child of Jack and Mary Buckley. The family moved to the village of Larchmont when he was eight. The village would remain his beloved home for over 60 years. He was a graduate of St. Augustine's grammar school, The Storm King School, and Pace University. After serving in the US Navy, he began his career at New York Telephone and continued working in the industry for over 41 years. He was an active parishioner at St. Augustine's Church in Larchmont, where he founded its now thriving CYO basketball program. An always enthusiastic coach, coworker, tennis partner, and all-around character, he will be remembered for his bellowing laugh, provocative dance moves, and undying devotion to his large family and even larger group of friends.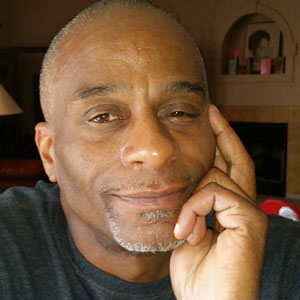 Kevin C. Lewis '77
July 15, 2017
Kevin C. Lewis '77 of Enid, OK, passed away July 15, 2017, in a truck accident. At SKS, Kevin "Lefty" Lewis played soccer, baseball, and basketball, and he was named one of the Athletes of the Year in 1977. Classmates said, "He was an extraordinary athlete, had charisma, and was liked by everyone. He could talk to anyone and fit into any group of kids at the School."
After SKS, Kevin enlisted in the US Army as a medical corpsman. After moving to Columbus, OH, he was employed as a radio personality for WBBY FM 104 Jazz Station. He was the deli manager at Vance Air Force Base Commissary in Enid, OK, "providing energy like no other." Kevin found his niche in long-haul truck driving for Forward Air Trucking with his dog and copilot, Missy. Kevin loved animals, was an avid horseback rider, loved music, and played the piano.
Paul McCann
Past Faculty/Staff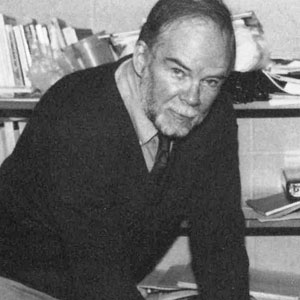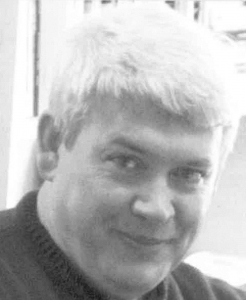 Paul McCann
History Teacher and College Counselor
June 26, 2017
Paul McCann, a past faculty and staff member, passed away at age 62 on June 26, 2017, at Duke University Hospital. Paul graduated from Dedham High School, Class of 1976. Following graduation, he attended the University of Massachusetts and received his BA in communications. During his high school and college years, he was a talented hockey goalie. Paul served in the US Army as an infantry officer until his retirement in 1994. While serving in the Army, Paul met the love of his life, Sue Ann (Rupe) McCann, in Wiesbaden, Germany. They celebrated 33 years of marriage and had three daughters. Following Paul's retirement from the Army, he taught at the New York Military Academy; then he taught history and worked as college counselor at The Storm King School from 2000 to 2005. Paul was an avid New England sports fan, enjoyed political discussions, and was a gifted writer. His unwavering values and immense love for his family is remembered by all that shared in his joyful life.
Isaac "Rick" M. Pease, III '63
Isaac "Rick" M. Pease, III, Class of '63
died on September 2, 2017.  His family wrote that he was a decorated Vietnam Veteran.  He served our country saving lives as a battlefield Navy Corpsman, serving with the Marines.  He received the Purple Heart for multiple crippling gunshot wounds while treating the wounded and was honored with the Navy Commendation Medal with V for Valor for sustained acts of heroism and valor. He was a member of St. Columbkille Catholic Church and the Disabled American Veterans.  His wife, Doris, said that Rick was always sorry he couldn't attend a reunion at SKS but travel was very difficult for him.
Jonathan "Jolly" Sands Wolf '72
May 1, 2017
Jonathan "Jolly" Sands Wolf '72 of Torrington, CT, died May 1, 2017, after a protracted battle with cancer. He was born July 13, 1953, in Sharon, CT, and lived and worked as a property manager in Falls Village his entire adult life. Jon was nicknamed "Jolly" as a toddler, and anyone who knew him understood why. He will be remembered for his remarkable spirit and positive outlook, even when illness overtook him. It was impossible not to be lifted by his presence. Jon's joy of life was infectious. A true character in the very best sense of the word, he met everyone from every walk of life with a smile, a story, and a bit of fun.
John graduated from The Fay School, The Storm King School, and from Lyndon State College. He was not only an exceptional athlete, but a well-liked and respected leader on whatever team he was part of. He won numerous awards and was elected to the Storm King Athletic Hall of Fame in three sports: soccer, hockey, and lacrosse. His hockey jersey and helmet are in the award display area in the gym. Jon continued playing sports and coaching into his adult life. Jon was a four-year student at SKS, a prefect, and the recipient of The Storm King Cup. In the words of his classmate Brad Bronk, "Of course I remember Jon for his athletic excellence and his leadership, but mostly for his inclusiveness. Jon reached out to all and shared the mountaintop experience with honesty and sincerity. He never took the role of the jock or the cool guy when he could have with ease. Jon was the most natural of leaders; people wanted to follow his lead."
Deborah Kaplan Sergi '75
passed away on August 25th, 2017. She was 59 years old.  Deborah, the daughter of William Kaplan and the late Elaine Solomon Kaplan, was born in Newburgh, New York on November 5th 1957. She attended Balmville School in Newburgh before coming to The Storm King School as a sophomore.  She was described as vivacious and outspoken, was on the first girls' field hockey team, and enjoyed playing Spades in the Commons with her friends during free periods.  After graduating from SKS, Deborah attended American University in Washington, DC.  Her family wrote:  "It was impossible not to fall in love with Debbie.  She was the beloved wife of John Sergi, the cherished Mommy of Alahna and Madison Sergi and best friend to her sisters, Joan, Sheila and Amy.  Deborah was truly an incredible daughter, sister, niece, aunt, great aunt, and cousin to her entire family. She was a devoted, loyal and loving friend.  Debbie was "Our Uptown Girl" and her passion for New York City, fashion and good food will remain unsurpassed.  Deborah believed in the city of Newburgh. She was a business owner and a philanthropist who continuously and quietly attempted to reach people that were truly in need."  The family offered that donations may be made in Debbie's honor and memory to INSPIRE, 344 Gidney Avenue, Newburgh, New York 12550.  "Our world was a better place with Debbie in it. She will be missed forever by all."

Eric Tucker, Class of '89
died on October 2, 2017.
John "Jack" Baxter Sinkhorn
Past Faculty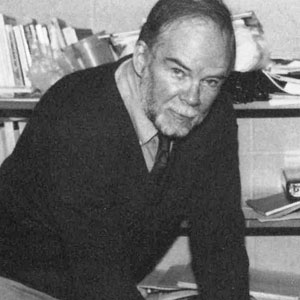 John "Jack" Baxter Sinkhorn
English Department
July 16, 2017
John "Jack" Baxter Sinkhorn, a past faculty and staff member, passed away July 16, 2017. He was born in Manhattan, NY, on September 11, 1934. He moved to Bath, NY, to attend fifth grade, graduating from Haverling High School in 1953. Attending Colgate University, he sang with the Colgate Thirteen choral group. He was drafted in the Army and spent two years in Germany. Upon separation and a stint working in New York City, Jack left New York to attend Idaho State University and went on to get his Master's Degree in English from the University of Montana. He began his teaching career at Central Methodist University in Fayette, MI; moved to Towson, MD, where he taught at Towson State University; then met his wife, Susan. They married in 1970 and went to Sandy Spring Friends School, a private school near Olney, MD. He was there 15 years, and then went on to New York where he taught English at SKS for 14 years, retiring in 1999. Jack moved back to Idaho where he wrote articles for Idaho Senior News, a small newspaper in Boise. He moved to Phoenix, AZ, where he passed away, to be near family in 2014. He is survived by his wife, Susan, and his sons David Sinkhorn (SKS Class of 1990) from the Phoenix area, Matthew Sinkhorn (SKS Class of 1990) from Palmdale, CA, E. Paul "Skip" Weidner from Philadelphia, and John F. "Jack" Weidner from Pasadena, MD.
Susan wrote, "We were with Storm King School for 14 years, and I still treasure so many memories of the area, the campus, the staff. [John] was very proud of his association with Storm King as Head of the English Department." John is survived by 12 grandchildren. In his memory, his family asks that a donation be sent to the Finger Lakes Boating Museum (PO Box 575, Hammondsport, NY, 14850).
William Thomas Morris '68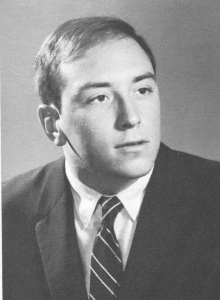 William Thomas Morris of Yardley, PA, formerly of Hilton Head, S.C., passed away Friday, November 21, 2014 after a long illness. He was 65. Bill was born on July 5, 1949 to Jeanne B. and William R. Morris and grew up in Haddonfield, N.J. 
While at SKS, Bill  was described as easy-going and conservative, but "his quiet manner suddenly changed when somebody handed "Joe Willie" a pigskin.  He would run for his famous white cleats and then choose teams for a quick scrimmage.  On Sunday afternoons, Bill could be seen tossing touchdown passes or traveling to Shea stadium to support the Jets."  He played Varsity Lacrosse, was Headwaiter, Dorm Proctor, and a member of the Quarry staff.
Bill had a successful career as a sports agent, enjoyed historic restoration and later had several business ventures. 
Bill is survived by his wife, Margaret E. Coe; his father, William R. Morris and his wife, Barbara; his brother Thomas B. Morris and his wife, Debby, along with his niece, Jeanne M. Maurrasee and her husband, Flomar, and nephew, Thomas Morris.