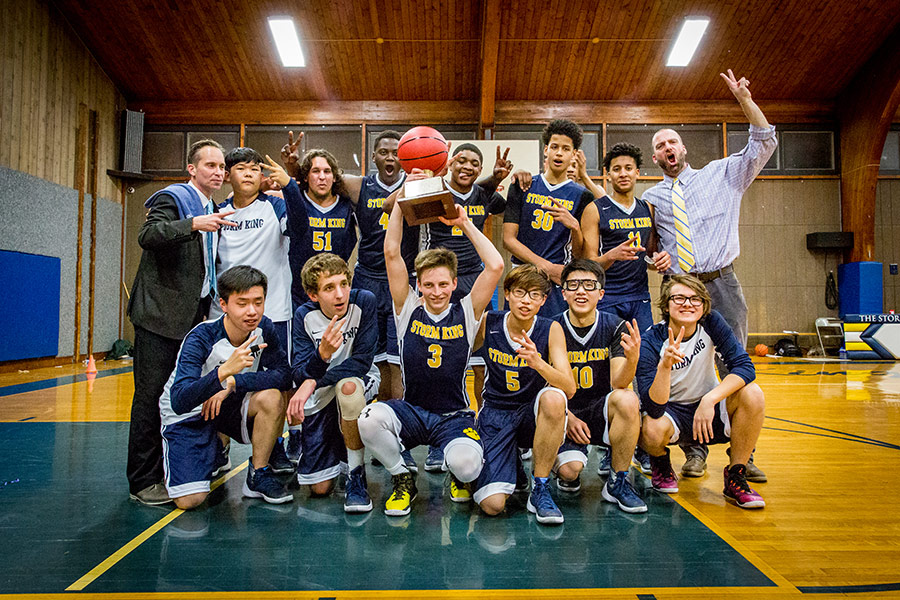 On Monday, February 29th the SKS Boys Varsity Basketball team capped off their perfect 10-0 league season with an incredibly exciting 61-46 win against #2 seeded Oakwood Friends School, in the HVAL Final. It was their second HVAL championship in two years.
Hosted by SKS, arriving spectators were greeted with a celebratory atmosphere featuring concessions, spirit paraphernalia and upbeat music. Shortly after the start of the game, the gymnasium bleachers filled up to capacity, offering late-comers standing-room only along the rim of the court and in the lobby.
Oakwood's team hit the ground running once the whistle blew, making the first basket and showing a particularly strong defense.
However, thanks to a beautiful 3 point shot by junior Jose F. followed shortly thereafter by junior Elijah B.'s basket, Storm King gained the lead early in the first half, and never relinquished it, always staying an average 10 points ahead of Oakwood.
Along with Jose and Elijah, the team's lead scorers included 9th grader Jayden F. and 10th grader Jah'Bral D., who exhibited an unflagging spirit and energy throughout.
Storm King and Oakwood fans (many of whom traveled from Poughkeepsie to the Mountain) cheered continuously and rallied their teams during the nearly two-hour match. It was a loud and thrilling championship game that ended in a standing ovation for SKS by the gathered Storm King community, and the presentation of the HVAL title trophy to the team.
A replay of the Final is available for viewing at sks.org/live until the end of March 2016.
Storm King began the basketball season a bit unconventionally with training and competition starting during the week of Thanksgiving break in November.
However, the extra conditioning and games versus more competitive high school teams in the New England Preparatory School Athletic Council (NEPSAC) proved worthwhile.
"We've had a great year," head coach Alan Lewis proudly said, "We are the best team in the HVAL this year – we've proven that – we haven't won a game by less than 10 points in our league."
SKS also shone this season with an impressive 14-0 record in their NEPSAC class, Class D. With a strong showing in the New England Tournament this week, the team has a chance to eclipse the 20-win mark on the season as their current record stands at 18 wins and 3 losses.
"Lately, I think what's so good about the team is that we're not dependent on one player," said Coach Lewis, "As the season's gone on, we've become more diverse and lately, we have 4 or 5 guys scoring 10-15 points a game, so we've become a lot more complete, so that bodes well for us over the next few weeks."
Next up, the Boys Basketball team competes in a NEPSAC Quarter Final on Wednesday against Rhode Island's Rocky Hill School. For more information, visit sks.org/basketball
Good luck and congratulations!