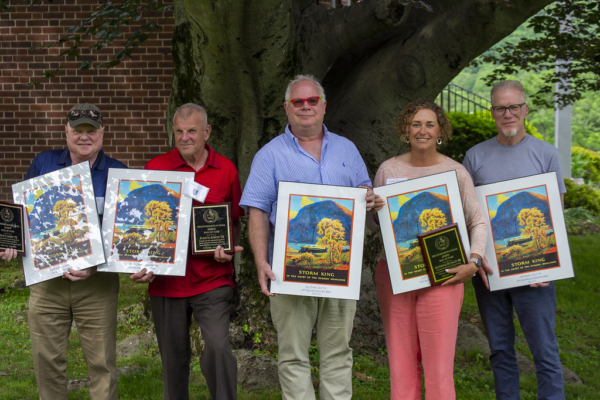 2022 Awards Recipients 
(From left to right) Wray Farmin '72, Joseph Austin '72, Gary Springer '72, Jennifer Hudson '02 & David Hartcorn '73
Margaret Clark Faculty Excellence Award
Sports Hall of Fame
Arts
Humanitarian
Founder's Cup
Margaret Clark Faculty Excellence Award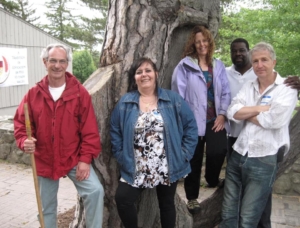 Clark recipient Bill Cesario with Dorry Dimos'78, Dana Crevling'77, Tom Womble '78  and John TDK Franzen '77 at Reunion 2011
The Storm King School Alumni Council welcomes nominations for the Margaret Clark Faculty Excellence Award.  This award recognizes a former faculty member of longevity whose dedication transcended the classroom and whose high ideals became part of the student-centered tradition of The Storm King School.
Miss Margaret Clark retired from The Storm King School as a distinguished member of the faculty in 1938, completing 44 years of service as an art teacher. During her tenure, Margaret's responsibilities grew to head of the lower school. During World War I, she ran the infirmary as well as the entire administration, while continuing to teach her legendary art classes. She is also credited with the designing of The Storm King School crest used today.
Nominations are encouraged as soon as possible before the December 31 deadline.  Please submit separate forms for each nominee.
The Margaret Clark Faculty Excellence Award will be presented on the School's Reunion Weekend in June.
For questions or further information, contact Lynn Crevling '72, Director of Alumni Relations and SKS Alumni Association Secretary at lcrevling@sks.org or 845-458-7517.
Past Margaret Clark Faculty Excellence Award Recipients:
2020: William Cesario
2019: Dr. Leslie McLean
2018: Scott Chrysler
2017: Thad Horton
2015: David Van Dyck '40 & Leslie Breton
2014: Bill Carhart
2013: Austin Stern and Karen Hayes Szvoren
2012: Cr. Mary Meynardie, Jason Steiker
2011: Diethard Kolewe
2010: Robert Went
2009: Thomas Donahue
2008: Richard G. Broughton '54
2006: Herb and Tommye Sauer